The word "geleto" is certainly not the first thing that comes in mind when you are in Milan. In the city of espresso, panettone, aperitivo and risotto, gelato comes second…Perhaps…Because we must not forget that after all it's Italy we're talking about, the country that glorifies gelato from north to south and all year round.
So, how could it be any different in Milan? Surely, in north Italy's capital you won't find a gelateria in every step you take. But this is not necessarily a disadvantage. Because it turns out that the city has some excellent gelaterie and is nearly free of the touristic traps that inevitably flood Rome. So, without unnecessary frills and bedazzlements, here are the places where together with locals who are in the know, you can have a great gelato in Milan:
Pavé
My favourite (o.k. one of my 2 favourite!) gelateria in Milan is safely distanced from the important sights and big museums and therefore not flooded by tourists, but also not too far from them so that you can easily walk to it. This minimal and simple place with its amazing and often unique gelato flavours is a beloved, common secret among locals. Even on Sundays when the area is practically empty, people pour in for a delicious gelato. If the whether is warm enough, you might as well combine your ice cream with a stroll around Giardini della Guastalla, a small and beautiful park nearby.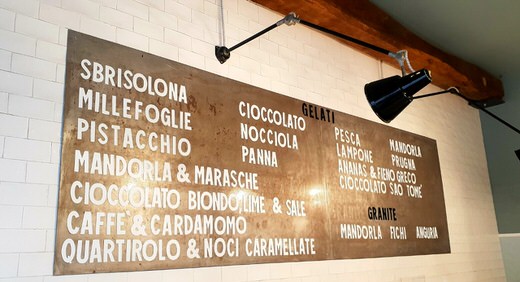 Cioccolatitaliani
Welcome to a dreamy chocolate world! Chocolate that flows on windows, taps with liquid chocolate that fills the gelato cones before the simple yet delicious flavours go on top. Dark Madagascar, chocolate with cinnamon, chocolate and pear are exquisite! The selective toppings are beyond average, my recommendation is a small cone full of melted chocolate which you will pour over your ice cream. Gelato here is perfect both in taste and presentation.
Ciacco
Quality and purity. These two words describe precisely Ciacco's philosophy and their ice creams. Indeed without any compromise.
Added flavorings and colors have no place in their recipes, on the contrary the secret for their wonderful, rich flavours is the imaginative combination of sometimes unexpected ingredients. The choices are always plenty and in accordance to seasonal products – consider yourself lucky if Zabajone is available, either with sweet Marsala wine, rum or whiskey it's a flavor you should definitely try!
Tre Gazzelle
A classic and old fashioned in a good sense gelateria – cafe, it's exactly what you need for a refreshing break in Corso Vittorio Emanuele II, the always busy and fashionable pedestrian street in the city center. Besides all classic flavours you'll find a good selection of various chocolate tastes. If you choose to sit in they will serve you a spectacular ice cream cup decorated with fruit and toppings, but the truth is you'll pay way too much for it. On the other hand, prices are more than reasonable for take away, so take your cone or cup and continue your window shopping… To me, that's two pleasures combined in one!
Vanilla Gelati Italiani
Gelato, semifreddo, ice sticks, vegan or sugar free ice creams…you'll find it all in this small gelateria opposite the back side of Duomo. The friendly staff will gladly let you try any flavour you find interesting, scoops are generous and personally i adore the spoon shaped biscuit as an extra on top of my cone!
Casa Infante
Naples' favourite pastry family takes over Milan! It's the kind of pastry shop where you'll want to eat everything…you go for an ice cream and you leave with one of their sweet specialties, you go for a classic Neapolitan rum soaked savarin and you leave with a huge gelato cone…Flavours are rich, intense and truly delicious. You'd better try the ones you won't easily find elsewhere, like cannolo, savarin with rum and chocolate, noccioinfante, amazing salted caramel, definitely the crostata di fragoline – an aromatic cream with tiny, forest strawberries and the excellent apricot, strictly during summer time.
Gelateria Porta Romana
The beautiful arterial road Corso di Porta Romana links the city's first imperial gate, from which it takes its name from, with the Duomo area. Here you'll find two gelaterie of good quality . In this one, nearly opposite the University, you'll find a tempting variety of gelato flavours, classic, seasonal and special ones. Chocolate is enriched with cherries, grapefruit is aromatised with Campari, white chocolate is combined with raspberries and pumpkin pairs with Amaretto and ginger! Whatever you choose you can be sure is made with pure ingredients and served with a smile.
Le Botteghe di Leonardo
The other gelateria in this area is no other than Leonardo's bright, beautiful shop. And what comes out of his laboratory? The purest and healthiest ice cream flavours, that vary from classic ones to sugar, gluten or lactose free. So free of guilt you can enjoy as many scoops as you like! Fruit sorbets are delightful and very refreshing, especially when they combine two fruit, my choice is "Kibana", the imaginative kiwi-banana blend.
Terra gelato
Although this is a new entry in the Milanese gelato world, Terra soon became a success story, thanks to owners' and chef's passion for searching and strictly selecting the purest ingredients the Italian land offers, which the gelateria's name honors ( terra = land ). The glass walls of the laboratory is a great idea, so while you enjoy your ice cream you can watch all phases in the process of genuine, Italian gelato producing. Do not pass by the Sicilian salted pistachio and Tiramisu!
Toldo
And from new entries let's go back to old and beloved ones. In Brera, the most bohemian and eclectic area, Τοldo stands across the beautiful church of Santa Maria del Carmine and perfects the art of gelato making since 1945. The flavour that bears their name is a fantastic cream, while liquorice and cinnamon with prunes have become best sellers. With a gelato from Toldo in hand, your walk along the picturesque paved alleys of this lovely area will be even more enjoyable.
RivaReno
Still in Brera and this time let's visit a gelateria with Bolognese origins and with a name that pays tribute to its birth place. Here you should definitely try the chocolate with rum, Gran Torino which is a salted dark gianduia with hazelnuts and the double chocolate named Cremino dark. Can you think of anything more delicious than three different chocolates in one cup?
Enrico Rizzi
Pastry chef Enrico Rizzi has conquered Milan with his delicate sweet creations and has made an established name for his macarons. His gelati in classic flavours but also in gourmand, creative combinations of various ingredients are perfect with one or two macarons on top. This way you will try two top sweet creations together!
Amorino
This gelato chain has expanded beyond Italy and is always very popular. Besides their ice cream that remains pure and of high quality over the years, Amorino stands out for their imaginative serving: in gelato cones flavours are arranged in such a way that they form a beautiful rose with open petals! You almost feel sorry eating it! Try the classic stracciatella, l' Inimitabile– their own rich chocolate with hazelnuts and dulce de leche or make a colourful rose with sorbets of exotic fruits.