Much differentiated to the big gelato chains of Milan, Pavé is a small and simple gelateria that makes the short detour off the Duomo area worth it. Located on Via Battisti, a large road that stretches from the Duomo to the north of the University, as you'll be approaching it you'll come across more and more young Italians with a cooling gelato in hand. And that's a good sign that you're getting close to Pavé. You will recognise the gelateria once you see the black tent and the happy crowd sitting on the wooden bench outside the shop. The interior with simple lines and wooden panels is in the characteristic minimal style that Milan is so famous for. Everything here makes you focus on gelato. All of the wonderful flavours are kept inside closed, metallic containers and altough you can't see them, the staff will be happy to offer a spoon of any taste seems appealing to you. And of course, the big, brown board that dominates the wall, will inform you about all tastes available on the day of your visit.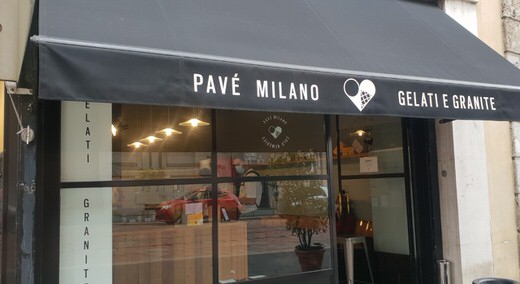 The flavours change according to season and besides the classic ones are others, unique and unexpected, like White chocolate with lime and salt, Coffee and cardamon, Orange and anise or Apple and curry– that are all a bold and successful experimentation with spices – , even Quartirolo cheese and caramelized walnuts or Chocolate and tea. I always find it difficult to choose as one is more delicious than the other! Caramelized banana, Almond and cherries – my latest discovery and obsession! – and Salted white chocolate with lime are unforgettable tastes!
So, if you're in Milan and you choose to visit gelateria Pavé and you should – be bold and don't hesitate to try their inspired and imaginative gelato flavours.
Pavé: Via Cesare Battisti 21, Milan