They say a lifetime is not enough to fully enjoy the magical atmosphere, the sights and the impeccable beauty of the Eternal City. It certainly isn't enough to savour Rome's amazing ice creams! Genuine Italian gelato is a chapter of its own in Rome's treasures, prepared with traditional methods, specific fat contain, without artificial flavourings and colors.
Although there's a gelateria in every corner of the city, often with impressively loaded fridges of colourful ice cream, decorated with fresh fruit and various nuts, that doesn't necessarily mean that they sell genuine, artisan gelato.
So how can one choose and where can you find the best authentic gelato? Luckily, this is my field of expertise! Full stop. Having visited Rome 10 times and having tried tones of ice cream, I have chosen – without ranking – my favourite ice cream stops, tested hundreds of times during many years and confirmed for their steadily high quality and amazing, often unique flavours.
Gelateria Della Palma
The picture speaks for itself. No one can resist Della Palma's gelato! In a recently renovated, big, bright shop with a very long wavy fridge of 150 flavours as their trademark, you'll be left ecstatic trying to choose.
For chocolate lovers, 30 unique flavours of which I totally recommend: Croccantino al rum, Tartufo, Cioccolato Amaretto, Sacher Torte, Mozart. Other classic Italian flavors include Crema del cardinale, Casata siciliana and Zuppa inglese.
Frigidarium
Don't be discouraged by the queues you'll probably come across. This is a tiny gelateria with a couple of benches aside, but most people prefer to enjoy Frigidarium's marvelous gelato while strolling around Via del Governo Vecchio, the picturesque street where this gelateria stands. Cheap and amazing ice cream, always fresh as you can conclude by the quickly emptying containers in the fridge. Their signature flavour which has their name is always a favourite and accompanied by a cocoa biscuit and it's here where you'll find the best Chocolate-orange ice cream you'll ever taste! Wonderful Cinnamon, Amaretto with intense flavour and Amarena full of cherries. Take it a step further and ask them to dip your gelato in melted bitter or white chocolate that dries immediately over your ice cream! Pure sin!
Giolitti
This is an always favourite classic roman café-gelateria that serves sweets of exquisite quality. During weekends and at bank holidays you'll have to pass through crowds of locals who gather for an ice cream. No wonder, as Giolitti makes light, fresh gelato with an unmatched variety of red fruit sorbets. Try at least one of them ( if you can restrain yourself ) and combine it with Limoncello, Champagne, Whiskey or Baileys. Why have a drink when you can have the flavour in ice cream? Say yes to a generous addition of rich whipped cream on top ( they will ask you "con panna?'' ) which is for free and enjoy it while taking a last walk from Pantheon to Piazza Navona just like Romans do.
Gelateria del Teatro
The first thing that will draw your attention is the big display case, which is actually a large window to the laboratory. Huge chocolate blocks, baskets of fresh fruit and nuts and a maker in a spotless white apron preparing a recipe. Once you realise you're drooling it's time to enter. Trying to choose from master gelato maker Stefano Marcotulli's unique flavours is more difficult than you can imagine. Chocolate with wine ( Choccolato al vino ) never fails, White chocolate with basil ( Choccolato bianco al basilico ) is always wonderful, while Ricotta cheese with figs and almonds ( Ricotta-fico-mandorla ) is always a classic. If you happen to be there in autumn make sure you try the Pumpkin's unique flavour. Ice cream of such quality doesn't come cheap, but it's totally worth it. Enjoy it seated on the stairs of the lovely side alley or strolling along Via dei Coronari, one of historic center's most picturesque pedestrian streets, famous for its antique shops, heading towards either Piazza Navona or Castel Sant Angelo on the other side.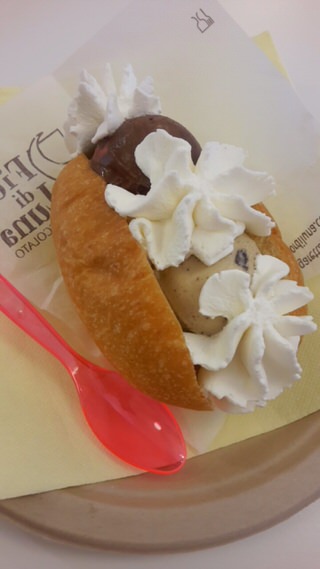 Fior di Luna
Trastevere's most beautiful street couldn't be lacking of an excellent gelateria. For me, the reason it stands out is first of all the perfect double flavour of Hazelnut-Pistachio and also the fact that they can serve you an amazing Sicilian brioche with 2-3 scoops of your preferred ice cream and velvety panna, the smooth, unsweetened whipped cream that is offered for free with any gelato in Rome.
+ 1 beyond competition: Tre Scalini
What can I say about the gelateria that back in 1946 created the original Tartufo and took its reputation all over the world! A big truffle, made of dark chocolate gelato, with chocolate chips and a cherry in the center is covered with chocolate flakes and accompanied by a generous whipped cream rosette. Very expensive if you sit at one the tables overlooking Piazza Navona, you might as well enjoy it at the bar or take it away and sit at one of the benches that surround the fountains.
Who wants more? If you become addicted to Italian gelato just like me, you might also try some of the following places, which are equally good ( actually very good! ):
San Crispino: Strictly selected ingredients, kept in metallic pots in simple, seasonal flavours. Definitely try Valrhona chocolate και Ginger-cinnamon.
Fatamorgana: Its devoted fans love it for the imaginative combinations like Chocolate with tobacco ( Choccolato al tobacco ) which is their most famous flavour, Chocolate-rosemary and our beloved Thumbelina ( Pollicina ) made of walnuts, rose petals and violet flowers.
Dei Gracchi: A quickly developing chain of ice cream spots with their own suggestions like the delicious Almond with orange ( Mandorle all' arancia ) and Apple-cinnamon ( Mela e Canella ).
Ciampini: Adding to the elegance and glamour of Piazza San Lorenzo, café-bar Ciampini is always popular during aperitivo time. Those who won't sit in for a drink can always enjoy a rich cone of Pistachio, Hazelnut or Chestnut!
Buon appetito and see you later diet!