Milan teaches culture and high aesthetics
Travelers who arrive in the capital of fashion and design anticipating to be initiated to the secrets of incomparable style and elegance and to study the latest fashion trends, will never leave disappointed. "Fashion's golden square" with stunning window shops, luxurious shops of high class fashion designers, innovative galleries of interior and furniture designers prove that all trends are born in this city.
But also the ones who arrive in Milan in pursuit of art and culture, will be more than satisfied. From imposing Duomo, the eternal symbol and proof of the Milanese persistence, as in the 500 years that its completion lasted they stayed faithful to the original baroque design, to Leonardo's "Last Supper", one of the most precious masterpieces in art history and from the bright stage of La Scala to the famous Brera Picture Gallery, Milan is bursting with museums, galleries, historic buildings and art treasures.
But the capital of the Italian north is much more than all these. It is full of beautiful, hidden sides, the pieces of a multilateral city's puzzle. From the wonderful castle Castello Sforzesco with its museums, a symbol of the old city's powerful dukes, to the vast park Sempione where you can spent some relaxing time or even have a pic nic. And from Brera, the bohemian, artistic district with its cobblestone streets, designers and painters' studios, antique shops and numerous bars and restaurants to Navigli, the canals area -yes, Milan also has canals!- the center of the city's nightlife with a long series of bars and young people taking over the banks with a hip cocktail in hand. Passing by and crossing all these areas you can see the old, yellow trams , the most picturesque way to move around.
Common denominator in all of the above are always high aesthetics standards and Milanese natural elegance. Because, as you'll realize yourself, style is in Milan's DNA!
"Milan is a metropolis. It is welcoming, rich in unexpected beauty to discover day by day. The buildings are not imposing and opulent like the ones in Rome. But they have a discreet elegance that almost whispers…", Giorgio Armani.
 Caffè, gelato and art in Milan
1.

  The art of Italian coffee in Milan

Having travelled around Italy many times and after observing Italians' habits, I've fallen in love with the wonderful habit of the necessary quick stop at a café early in the morning for a cup of coffee – most likely an espresso – accompanied by a small sweet. (Click to read)
2.

  Where do the Milanese go for a delicious gelato?

The word "geleto" is certainly not the first thing that comes in mind when you are in Milan. In the city of espresso, panettone, aperitivo and risotto, gelato comes second.Perhaps…Because we must not forget that afterall it's Italy we're talking about, the country that glorifies gelato from north to south and all year round. (Click to read)
3. 

Santa Maria presso San Satiro: An amazing little gem

Very close to Duomo but very much different to it, you'll find this beautiful church dedicated to Satyrus, brother of St Ambrosius which is Milan's patron saint. This gorgeous little gem can easily be missed among the traffic and noise of the city center. (Click to read)
Pave: Inspired and imaginative flavors!
Much differentiated to the big gelato chains of Milan, Pave is a small and simple gelateria that makes the short detour off Duomo area worth it.
Cioccolati Italiani: A glamorous gelateria in the city of glamour
Choccolati Italiani is probably the most well known gelato chain in Milan and there's a good reason for that. With spots in the most central areas of the city and with a big variety of sweet temptations on offer, it's no wonder that crowds queue patiently for one of their delicacies.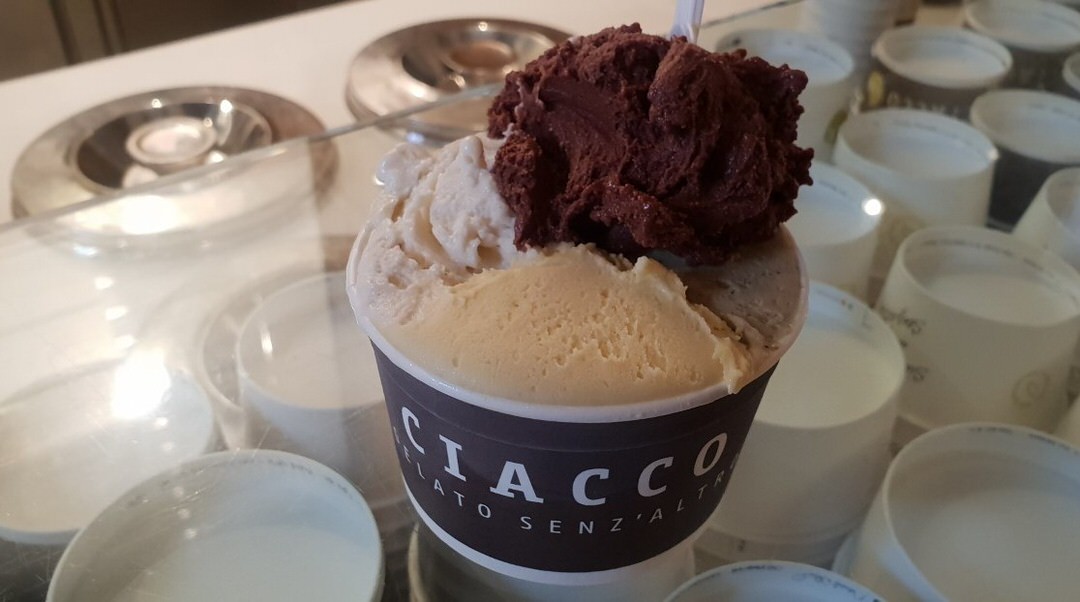 Ciacco: Queues don't lie!  
Ciacco is the kind of gelateria that can easily be foreseen even though it's centrally located on a street full of attractive cafes, shops and hotels. That is because it's a rather small and quiet place, without the colorful, eye-catching display of ice cream flavors you often see in touristic traps. 
Recently in Milan
Follow me through Milan to discover artistic gems and less known hidden spots that will enthusiast art lovers . Discover more in My Blog.
Surely, the first city that comes in our mind when we're talking about a city with canals is majestic Venice. The same way, when one mentions Milan, the first thing that comes in our mind is the imposing Duomo, the elegant Galleria Vittorio Emanuele II and the latest...