People who know me, readers of my posts and subscribers to my blog acknowledge two facts about me: Fact no 1: Local gastronomy and original tastes of a destination is an important part of any trip of mine. It's my solid belief that food is a part of the culture of a place and a characteristic that defines its people. Dining in hotels has never been my thing, I always seek not only for the local culinary gems, but also for the authentic eateries where locals like to gather and enjoy the best their region has to offer. Such an experience is a true indulgence and not just "another dinner". Fact no 2: I'm a sweet tooth kind of person and there's no way I will visit a place and not give into its sweet temptations, especially when we're talking about original desserts, famous patisseries and renown pastry chefs. Desserts are also a part of the gastronomic heritage of a place and there are many examples to prove me right: Rome without gelato? London without cake and tea? Lisbon without pasteis de nata? Vienna without Sacher torte? Paris without croissants? (o.k. and eclairs and choux and tarts too!) Beirut without syrupy sweets? New York without cheesecake? It simply can't be!
So what about the island of Corfu? What is the dessert that characterises this Ionian island and where do the locals go for sweets of guaranteed quality? All visitors soon realise that Corfu glorifies its signature product, the kumquat, a small fruit of the citrus family, whose name means "golden mandarin". And although it can't be eaten fresh, it makes an amazing candied dessert, wildly sold all over the island. But besides this, or to be more accurate including this, there are many more delicious options for a sweet indulgence and here's exactly where to find them:
Papagiorgis for a supreme ice cream
I scream, you scream, they all scream for an ice cream from Papagiorgis, a real institution and a name identical to the word "dessert" in Corfu.
Any stroll along the paved alleys of the old town is incomplete without an ice cream cone from Papagiorgis in hand and if you don't trust me, just take a look at the long queues that form outside the patisserie during summer time and at weekends all year round. With almost 100 years of experience and with the 3rd generation of the family running the business, you can detect their dedication and respect for old recipes in anything you taste. And when it comes to kumquats, they certainly are the masters that bring out the unique flavours and aromas of the tiny fruit. The small kumquat tarts are excellent and the boxes of either plain or chocolate coated kumquats, are the perfect gift to bring home. And since we started with ice cream, try the Cream or Chocolate Parfait with kumquat fruit glace pieces and a golden, syrupy fruit to top your cup or cone, a true taste explosion in your mouth. Among other delicious flavours, all prepared in their lab with local milk, like the excellent Bueno or the Apple pie, the one you shouldn't miss is their signature taste that has the shop's name and the strictly seasonal Wild strawberry.
In my opinion this patisserie is one of the top places in Greece for a frozen delight. Really… I challenge you to go to Papagiorgis and leave without an ice cream!
Cake Boutique for their awarded macarons
Yes, the macaron mania has landed on Corfu too. And macarons have found the ideal home in this modern patisserie, where the two passionate owners and pastry chefs create sugary wonders. The first thing that catches the eyesight when entering the minimal space are the spectacular, bespoke cakes on selves behind the counter. A close look at them and you can tell that they involve many hours of baking and also decorating, a lot of imagination that goes way beyond average and special attention to all details that lead to a perfect result. I wouldn't think anyone would want to spoil such an amazing creation, if I didn't know just how tasty these cakes are! Then come the individual desserts. I'm talking about flavours of the contemporary era, perfectly balanced in sugar content, in unusual combinations and shapes, equally impressive in looks and taste.
And of course, who can pass by the amazing, fresh, colourful macarons, for which the patisserie has been awarded with the first prize in a macaron competition held by the French Embassy in Greece (the same year Aktaion from Naxos won the second place). The wining flavour, an odd to local tastes and products, masterfully combines Sycomaida ( dried fig paste with seasonings ), Xinomytzithra ( Greek chesse ) and Dried Nouboulo ( a Corfiot cold cut similar to prosciutto ), while other favourites include Raspberry and Lemon with ginger. Personally I can't resist to one of the newest additions, Calamansi, an exotic citrus fruit with a taste between kumquat and mandarin and of course the old time favourite Kumquat. Whatever you chose, every bite will be an exciting surprise!
Periklis – Alexis for homemade custard cream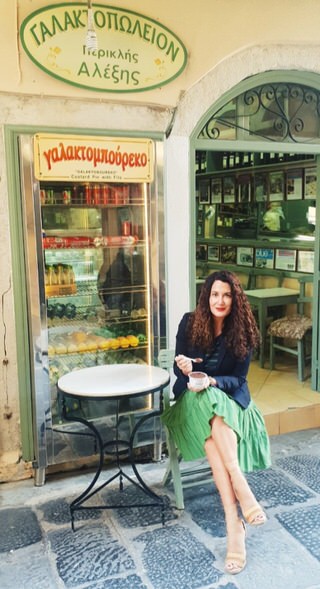 From modern back to traditional, this time at an original all time classic and unpretentious, small place. In the 70year old dairy shop called Periklis –Alexis choices are limited and specific: custard cream with vanilla or chocolate flavour. But that's really all you need when quality and taste are that good. And since I don't believe in dilemmas of this kind, I advise you to try both. The homemade taste, made strictly with Corfiot milk, will take you straight to your childhood years! There's nothing I'd rather have for breakfast whenever I'm in Corfu. Sitting at one of the two small tables outside the tiny shop, on the commercial, paved alley, listening to merchants chatting outside their shops, watching people gathering non –stop for their daily dairy buys and diving my spoon into the thick, aromatic cream…can't think of a better way to start the day! You should also try the freshly baked "galaktoboureko", a traditional sweet pie made with filo pastry, rich in custard cream and syrup. They make the cream with the famous, top quality Corfiot butter which gives it an unbelievable taste. Do not resist the temptation!
Andriotis for the best marmalade tart
In this bakery-pastry shop that's hidden away in a narrow alley of the old town of Corfu, you will taste the perfect combination of an Italian recipe and Greek craftsmanship. Here, among freshly baked goods, it's the "Pasta Frola" that stands out, a baked tart with kumquat marmalade and candied pieces of various citrus fruits. This kind of dessert is very popular both in Italy, where its called Torta della nona, and in Greece where its called Pasta Flora. But if you look closely at the name they adopt in this pastry shop, you will realise it's somewhat different to what this dessert is called in the rest of Greece. And that is connected to the Italian word "frola", used to describe a certain kind of sweet pastry, like in the Neapolitan sfogliatella frola. The owner, Mr Andriotis, has kindly confided in me that his father, who had been working in an Italian bakery in Corfu since his early years, memorized the recipe the Italians were using to prepare the dessert and adopted it when he opened his own pastry shop, the one you are now standing into.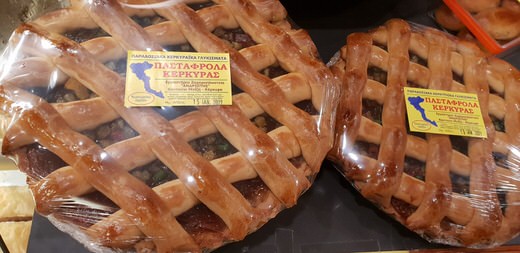 So the name of the dessert today combines its routes from the two countries, in a tart much tastier than any Pasta Flora or Torta della nona you've ever tasted! The secret lies in the kumquat marmalade and the candied citrus fruit, that give intense aromas and a fantastic aftertaste. Before leaving with your single or family sized tart, you should also try the small, syrupy pastry cookies, with kumquat pieces. They are the ideal assortment for a cup of coffee or tea.

This 4-stop sweet trip although short, is comprehensive and will give you a full taste of the best that this blessed land has to offer. Whether you're a fun of traditional tastes, small sweet bites, creations of modern confectionery or you prefer a top quality ice cream, you will certainly be satisfied. So who's with me in exploring the sweet side of Corfu?