Let's see…What are the key elements that make us yearn for the Italian cuisine? Pizza… Yes of course! Pasta… indisputably! Delicious cheese and cold cuts from every part of Italy … certainly! Fine wines … obviously! And select coffee and traditional sweets …definitely!
All of the above and indeed in top quality are provided daily by the Rosciolis, a family with four generations of bakers and four eateries in Rome that are paradise for foodies.
It all started back in 1872 on Via dei Chiavari, that used to be the locksmiths' street near Campo de' Fiori at the time, as in the previous years a papal edict determined that a bakery should establish right on that street, selling bread at affordable prices to people with limited means. That's how their story begins and the trademark quality of their products was such that the business flourished, so today the bakery is one of the most delicious addresses in Rome, while tradition is preserved and evolved. Every one of their establishments offers a special gastronomic experience.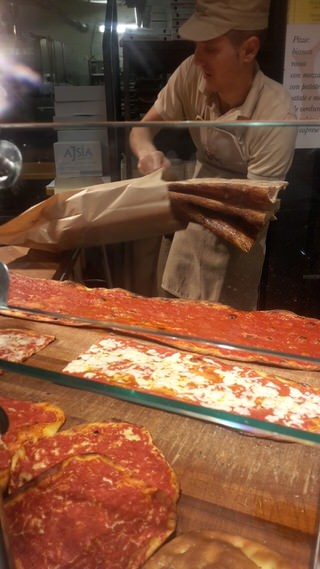 Antico forno Roscioli At the bakery that still operates in that same old address, the long experience is transmuted to really delicious products. The long, huge pizzas that are cut in slices sell off since early morning. Locals and tourists who visit Campo de' Fiori they all pour in, to taste the amazing pizza rossa. Just dough and tomato sauce…How tasty could it be? You can't imagine! It's in the simple tastes that the quality of ingredients and craftsmanship are proved. Even the pizza bianca, just dough, salt, olive oil and rosemary, is delicious. You will also find pizza with other ingredients, fresh sandwiches, foccacie and tempting, traditional sweets such as pistachio cake, almond or chocolate cantucci, zeppole with cream and many others, all freshly made and delicious. My advice is to try the pizza rossa right there, hot out of the oven, and also another different pizza flavor and also take away a package with sweets!
Roscioli Salumeria con Cucina The Roscioli family's pride and joy is a modern salumeria-delicatessen-restaurant with an enviable cellar and most select Italian products. Faithful to their moto "raw materials come before the kitchen", they carefully and passionately gather the best ingredients for their truly supreme dishes. For each of the specialties the menu gives detailed information about the materials' origin and the maturation time for cheeses. You can enjoy your meal at the deli's bench, or at the elegant tables, most special of them being the ones on the basement where the cellar is. For each dish, the experienced staff will recommend the best wine from nearly 3.000 different choices. Apart from the perfect pasta – don't miss the pasta alla carbonara – a great meal idea is a cold cuts platter and also a cheese selection accompanied by the family's freshly baked breads. Add a bottle of wine and what seems to be a plain meal will be an unforgettable one. As there's always high demand, it's important that you book in advance.
Roscioli Caffe A small, sweet paradise! You'll go for a cup of coffee and you'll get stuck into the sweets! In the small and minimal space that is dominated by the glass counter, you'll drink your coffee standing while gazing at the small, sweet masterpieces under the glass. The selection is big and the tastes are fantastic. If you like something traditional choose a cannolo or a rum soaked savarin, otherwise try the tartlets which are excellent, especially the maron glace ones. As they are all bite sized you can easily try more than one, actually you have to! In the evening, a space in the back welcomes all clients in one common table for a different aperitivo experience with wine.
Rimessa Roscioli The Roscioli's latest project welcomes you to a wonderfully warm space where in shared tables you will become one big company with others who share the same passion for good wines and food. It's something more than a restaurant and a wine bar, it's a tasting experience. Choose the tasting dinner you prefer – meal-wine tasting-cooking class and while you share the experience and your table with others, professional connoisseurs and sommeliers will explain in an informal and relaxed way everything you taste. It's not touristic at all, on the contrary it's a great opportunity to try products of great quality and excellent taste. Besides the special packages, you can just dine in the same sophisticated space and enjoy the top quality that characterizes everything the Rosciolis offer. And If you cannot travel or want to bring Italy to wherever you are, they offer a Wine Club with international shipping of unique, organic Italian wines, or you can join their free wine community – community.wine – with free wine courses to keep learning about wine.
Antico forno Roscioli: Via dei Chiavari 34, Rome
Roscioli Salumeria con Cucina: Via dei Giubbonari 21, Rome
Roscioli Caffe: Piazza Benedetto Cairoli 16, Rome
Rimessa Roscioli: Via del Conservatorio 58, Rome
View my Roscioli gallery