Visiting Aegina without trying its signature product, the famous all over Greece Aegenitian pistachio, is inevitable. There's no better or healthier snack than a bag of roasted pistachios when you arrive at the port or when you relax at one of the sandy beaches and there's not an image more characteristic of the island, than the loaded pistachio trees stretching in fields or beautifying large gardens.
But why just stay at trying simply the nuts when these days you can find on offer so many different, tempting ways to enjoy their marvelous taste? So embark with me on a tasty journey through various creations with Aegina's most renowned product. From homemade Pistachio pesto to handmade Pistachio tiramisu, here are my favoured and recommended places where you can immerse yourself to the most imaginative pistachio treats.
Pistachio tiramisu at Tortuga
The Italian owner of the fascinating art café and wine bar Tortuga, has found a mostly interesting way to give an Italian staple a local touch. Here, the generous and always fresh tiramisu slices are generously sprinkled with pistachio crumbs if you ask for it, a delicious twist on a classic one. There's also quality Neapolitan coffee on offer to accompany your sweet treat, or if you fancy something savoury try the Aegina bruschettas with crunchy pistachio paste and sun dried tomatoes.
Baklava and other syrupy sweets at Mourtzi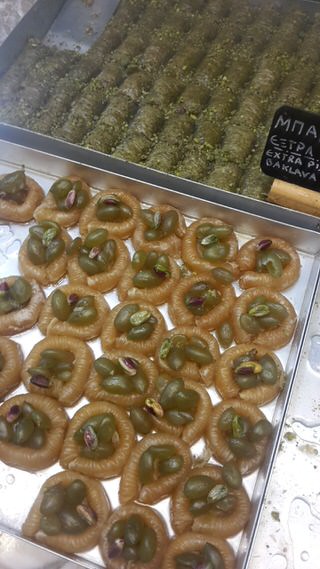 Since 2001 when this beautiful shop opened on the main pedestrian street of the island, it has become a necessary stop for visitors and locals alike. Which is totally justifiable once you have a look at the tempting display cases, full of bite-size sweet treats and chocolates, all covered or filled with local pistachio nuts. Add a big variety of syrupy desserts, with aromatic butter, crunchy filo pastry and a good dose of pistachio crumbs and you have the perfect excuse for wanting to try everything. A box of pistachio Turkish delights along with some candied nut bars make the perfect tasty souvenir and gift.
Pistachio and chocolate ganache cake at Melenio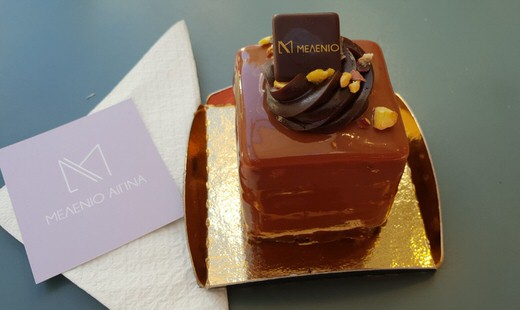 As difficult as it might be to choose a dessert at Aegina's best pastry shop, the one you have to try is the pistachio and chocolate ganache pastry. A heavenly, cube shaped cream cake that combines chocolate and pistachio mousse in two different layers, covered in chocolate ganache. Your taste buds will be thanking you and you'll be thanking me for letting you know about Melenio! Don't leave before you try their pistachio ice cream too and don't forget to ask for the pistachio crumbs topping.
Speaking of ice cream, apart from Melenio, the place where you should head for delicious ice cream in the flavour of the famous local nut is Aiakion . With history going 6 decades back and an expertise in sweet creations, they offer more than five pistachio based flavours daily, varying from Strawberry with chocolate and pistachio to Pistachio gourmet and with the lighter choice of Frozen yogurt with whole pistachios. Keep in mind that they also create excellent pistachio bite-size treats and special products like spreads and jams which make a perfect addition to a healthy breakfast or snack.
Spaghetti al pistachio pesto at Kappos Etsi
Leave it up to renown chef Dimitris Kappos to lead you through his gastronomic quests to the most delicious savory way of enjoying pistachios. Born and bred in Aegina the chef and owner of Kappos Etsi restaurant, knows how to use local produce to creatively interpreter much loved recipes. In this case it's the Spaghetti al pesto that takes on a new approach, with Aeginitian pistachios replacing pine nuts in the famous Italian sauce. The outcome is great in taste, texture and quality.
Various treats at local producers' kiosks
A real feast, a true celebration of the island's signature product with the most imaginative taste ideas coming straight from the producers, who each year seem to become more and more creative. Their kiosks, situated along the town's coastal road, are loaded with all kinds of tempting and delicious pistachio goodies. And their enthusiastic staff can't wait to welcome you and offer a taste sample of everything their extensive range of traditional products includes. The star product in all kiosks is definitely the pistachio butter, which is far more delicious than any peanut butter you've ever tried! It's so addictive you can easily eat it just straight from the jar. Other equally delicious spreads contain pistachio paste and praline or chocolate and are excellent ideas for a healthy breakfast or for cake fillings. Staying on the sweet side, you'll also find pistachio bars, biscuits, bonbons and chocolates with pistachio chunks, traditional spoon sweets, jams and honey jars with whole pistachios. And how about a cup of pistachio ice cream or a piece of syrupy pistachio baklava? Such a difficult choice…Last but not least, on the savory side, make a few supplies of freshly made pesto, sweet and sour sauces and chutneys – all containing local pistachios of course – which will add the authentic taste of Aegina to your dishes. A bottle of tasty pistachio cream liqueur completes the extensive assortment and is the perfect complement for the roasted and salted pistachios nuts.
And if you think that's too much pistachio, then I have to remind you that you're right in the source of the best quality nuts and each tasty creation and experience is different than the next one. The abundance of nutrients and health benefits is a bonus!