There are some places that immediately distinguish from the rest and stand out for their atmosphere and their vibe. Places where you love to hang out, are welcoming any time of day, have an authentic style and make you feel relaxed and at ease. Places where you go for a coffee break and stay for a mid-day snack, where you go for a glass of wine and stay for a great dinner. Tortuga is exactly that kind of place, which alone is enough of a reason for even a daily trip to the island of Aegina.
The personality of Italian owner, signore Dario, is reflected everywhere. From carefully selected wines of the Italian terroir to original Neapolitan coffee and from homemade tiramisu to the divine pasta dishes he prepares on his own every evening. Oh, and I must not forget the bruschettas, the perfect accompaniment for a craft fully made aperitivo.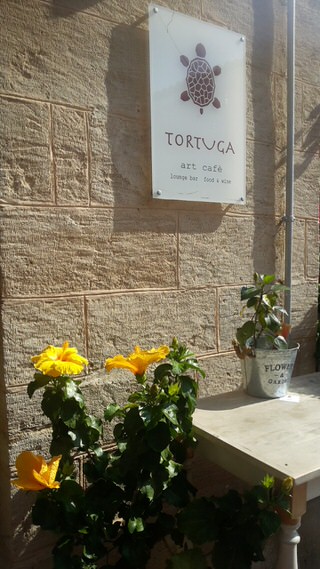 Just open the menu and you'll realise how Dario, staying true to his Italian routes, bridges the distance between the Gulf of Naples and the Gulf of Saronikos. The names of the dishes ( Positano, Sorrento, Amalfi, Vesuvio, Procida ) pay homage to his homeland, Campania, just like the red ceramic peppers hanging at the bar, the Neapolitan symbol of good luck. And the influence of Aegina is evident in snacks like the panini or the bruschetta with pistachio paste and the fantastic tiramisu with chopped pistachios. The idea of combining cheese and cold cuts from both countries – Italy and Greece – has excellent results: mortadella, smoked prosciutto, ricotta, Calabrian salami, gorgonzola, balsamic vinegar and mozzarella match perfectly with cherry tomatoes, olives, capers, haloumi cheese and basil.

I love the brilliant idea of serving the bruschettas in small bites, they make the perfect sharing plate at aperitivo time and resemble "pinchos", the famous Catalonian snack. I admit being addicted to Lombarda ones, with speck, gorgonzola, dried figs and balsamic cream, along with a glass of Moscato d' Asti!
Newly added to the menu, selected Italian pasta dishes are not to be missed either. Served only in the evening and cooked by Dario himself, are the very definition of perfectly cooked al dente pasta. Classic or modern flavours, the few daily selections are for me personally, among the best Italian pasta dishes I've ever tried – and trust me I've been all over Italy! Basil pesto and Spaghetti with sea urchin are perfect in their simplicity, while Beetroot pesto with prosciutto and walnuts and Tagliatelle with prosciutto, mashrooms and red wine are unforgettable dishes. Add a bottle of Aglianico or Falanghina to honour Campania and signore Dario and you'll be travelling to Italy in no time.
The extras that frame the culinary experience certainly include the beautiful setting, the central location, relaxing music and friendly service. Tortuga, with its name recalling the design of the first coin of Aegina, is housed in one of the oldest buildings of the island dating in the 1800s, found next to the fish market, on a picturesque pedestrian street. Its always open door and large windows create a continuum between interior space and outside tables, while modern paintings on the walls along with exhibitions of local and foreign artists add an artistic vibe. Try to get there on a Thursday night to catch a band playing live, or get a sought after outside table on a sunny weekend afternoon. You might as well run into me enjoying the legendary pistachio tiramisu!