London is a city that's fascinating any season of the year and nobody can argue that. Wrapped up in winter's misty fog or benefited by long, summer days, it's always full of exciting happenings and interesting places to enjoy yourself, from old pubs with cozy fire places to gorgeous, flower filled parks. But it's during Christmas time that as expected, London shows its most shiny, sparkling and stunning face. Actually, that starts nearly two months before Christmas, to get everyone in the most festive mood.
Among spectacular decorations and feverish preparations, new venues pop up such as open markets and ice rings, promising fun and enjoyment for little and older ones. And they very well succeed as their steady yearly appearance proves. Among the numerous places where you can go skating during the festive season, these are the three most distinctive ones which you can combine with a cultural experience too and therefore have a complete day of well-rounded enjoyment: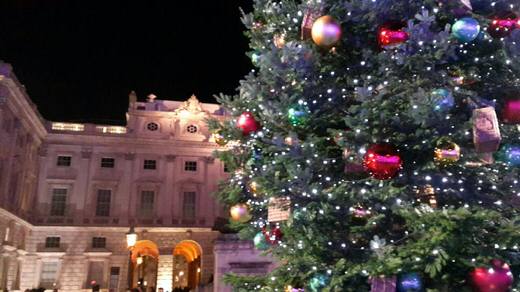 Natural History Museum
An inevitable destination if you're travelling with children and one of London's top attractions. Besides the imposing building that becomes a dramatic setting as night falls and lights are turned on, a festive ice skating and a carousel are set up in order to welcome the festive season.
Visiting the museum always proves to be equally fun and educating for young ones and adults, but remember that the collections are vast and time can fly before you know it. So try to limit your visit to as few hours as possible and save some energy for the wonderful skating stage right in front of the main entrance. Hosting a tall, fully decorated Christmas tree around which you can practice your skating skills and surrounded by the yard's lit trees, the scenery is dreamy.
And if you feel like you need a boost of energy when you finish, the area is full of very good options for tea and cake, a hot chocolate or a casual dinner. My recommendations are The Hummingbird Bakery for its delicious cakes and cupcakes, Muriel's Kitchen and Cote for a light meal or a heart warming soup and Comptoir Libanais for its lively vibe and slightly exotic menu.
The Tower of London
You wouldn't find a more historic landmark to go skating and there wouldn't be a more commanding backdrop than Thames as the sun descents, along with the illuminated Shard and City Hall buildings. The world famous regal fortress, full of stories and legends about its famous habitats is an unmissable sight and the Yeomen Warders enlightening guided tours make the experience truly enjoyable. After visiting the White Tower, the inner and outer wards, the two chapels and of course the stunning Crown Jewels, head to the moat that's transformed into a big ice skating ring. Gliding under London's skyline, towards the river with the lights of Southwark in the horizon is an unforgettable experience. Once you've skated enough, head to the creative igloo installations of The Coppa Club just next to the Tower and right on the river bank, wrap up in a warm blanket and order a hot beverage or rise a cocktail glass to London for its unique experiences.
Somerset House
This stunning arts complex that regularly hosts cultural events is the permanent home of the Courtauld Gallery, one of the best art collections you can admire in London.The rather small but impressive collection is formed by the most iconic paintings of Impressionists and Post-Impressionists, like Manet, Degas, Monet, Van Gogh, Gauguin, and Cézanne and is a wonderful surprise for art lovers who visit London. The three-winged elegant neoclassical complex is also home to one of the most beautiful courtyards in the British capital, that becomes simply stunning during the festive period when it's taken over by the frozen magic of an ice skating ring and a huge Christmas tree.
The setting is founded by the renown delicatessen store Fortnum and Mason , that also sets up an alpine themed café-bar that overlooks the ice ring. Cross the grand, arched entrance of Somerset House and the bright, twinkling lights together with the festive music are guaranteed to put you in a Christmassy mood.
Feel free to feel like you're acting in the film "Love Actually" where the ice ring has appeared and don't forget to visit the Christmas Arcade for some elegant gift ideas. A glass of mulled wine and some traditional mince pies at the Fortnum's Lodge will elevate your experience to a true delight.