An ultra modern metropolis where up and coming things happen all the time. That's the first thought one has about London. But at the same time, so many vivid images of long established traditions come to mind. It's true that London exceptionally embraces and combines both aspects and that's obvious in numerous occasions. For instance, next to ever-changing and never sleeping Soho, you'll find the aristocratic and closely related to royalty area of St James's. And how could it be any different when the old Tudor palace of St James's, still in use today, is the center of the area. Around it you'll find two royal parks, elegant streets, strictly member's clubs and London's oldest shops, most of them operating with royal warrants.
Discovering the historic merchants of Jermyn street
A walk around the area's main streets and a visit to the oldest and most unique of shops feels more like a trip to history and reveals the aristocratic and eclectic face of St James's. From what is for most people the city's center, Piccadilly Circus, the famous street for men's apparel is only a stone's throw away. Jermyn Street, named after Henry Jermyn – 1st Earl of St Albans who conceived the plan of developing the area, has been occupied by tailors since its early days. They helped built the street's reputation as the home of gentlemen's fine clothing, a title carried on to present time thanks to the craftsmanship and quality of merchants who operate here for centuries. From its famous residents, like Isaac Newton who lived on no 88 as a Blue Plaque indicates, to its famous clients like Fred Astaire, Winston Churchill, Pablo Picasso, Charlie Chaplin and Prince Charles, the street boasts its history in a modest way.

Here, among some contemporary designers and art galleries, boutique hotels and fine dining options, you'll find one of a kind shirt makers, shoe manufactures and other specialized shops. Turnbull & Asser, established in 1885, Hawes & Curtis since 1913, and Harvie & Hudson since 1949, are the most well-known gentleman's bespoke shirt makers, while internationally renowned shoe makers include Foster & Son dating back to 1750, John Lobb, established in 1866 and Church's since 1873.
Two shops you really shouldn't miss though are Floris and Paxton & Whitfield. The first one is the oldest independent perfume shop in the world, operating on the same spot since 1730! As you enter the shop, with the elaborated facade with the giant royal warrant above the door and the unbeatable number of 17 royal warrants, you'll feel the smell of its unique perfumes and huge fresh flowers bouquets filling the air.
Notice the dark mahogany cabinets where the perfumes are displayed: they date from the 1851 and were used in the Great Exhibition that took place in Hyde Park. If you would like to feel the touch of this live legend, then a bottle of "Malmaison" for gentlemen or a "White Rose" for ladies is a perfect gift to yourself or your beloved ones. The other one, Paxton & Whitfield, is the oldest cheese mongers in the UK and since 1850 when they received their first royal warrant by Queen Victoria, they have been supplying the royal family with the best cheeses from all over U.K. As you would expect, the cheese range is vast and covers many other countries known for their cheese produce. To pair your cheese and make a complete platter there are all kinds of chutneys, crackers and savory biscuits produced by Paxton & Whitfield. If you can't follow Winston Churchill's advice that a gentleman should only buy his cheese at Paxton & Whitfield, at least do go in, try the free samples and let the staff explain all about the products you like and how they age their cheese in the cellars underneath your feet!
The elegant shopping arcades

Before leaving Jermyn St notice the statue of the elegant male figure of Beau Brummell in front of Piccadilly Arcade, an iconic dandy of Regency London synonymous of elegant men's fashion. And while you're there, take a stroll across this elegant arcade where you'll find even more classic shops, all with the same curved window shops and with merchandise varying from tailored fashion to unique jewelry and from handmade soaps to grooming accessories. At New & Lingwood where wood dominates the space, covering the floor, the display cases and the old staircase, you'll find the most luxurious and unusual accessories and dressing gowns for men, in the brightest colors, a true feast for your eyes!
Instead of exiting the arcade to Piccadilly St, return to Jermyn St and head back until you see the colorful display of fresh flowers of Bulbous Flowers, with the pretty bouquets spreading on the pavement. You're now standing behind St James's Piccadilly church, sir Christopher Wren's only work outside the City. Go round the alley and stand in the front, so that you can admire the brick building with decorations of Portland stone and the beautiful bell tower. The interior is famous for Grinling Gibbons' exquisite wood carved altarpiece, while the church itself is widely known for its concerts, very popular among Londoners especially during Christmas time. In the church's yard a bazaar takes place all weekdays except Sundays, hosting various stalls from food to arts and crafts, depending on the day. There's also a small, serene garden attached to the church, with art exhibitions of contemporary sculpture taking place.
When exiting the church head west and after a few meters you'll come across another elegant arcade – the area is full of them – Princess Arcade. It's another beautiful collection of identical style shops, lining up under one roof. Among them, Prestat will capture your attention with the intoxicating smell of its handmade chocolates and truffles. A colorful world of gorgeous chocolate boxes is there to tempt you and you can even try their delicacies right there at the small café. Try their new ruby collection, the salted caramel and the marc de champagne truffles are amazing!
Where the royals shop and commons stare
As you exit the arcade, on your left hand side you'll see a beautiful dark wooden bookshop with three royal warrants on its façade. It's Hatchards, the Queen's favourite bookstore and a true British institution dating back to 1797. The warm and elegant interior will leave you speechless: wooden selves topped with books, tables decorated with fresh flowers, a fire place, portraits of the Queen and a big replica of the warrant granted by her majesty, as well as a wooden staircase, create a space where you can spend hours browsing rare first editions and signed books.

It's now time to see another legendary store, that for me is not only my favourite shop but also an integral part of any visit to London. Established in 1707, Fortnum and Mason, right next door to Hatchards, takes over a whole block and with its beautiful design, many storeys and elaborate clock in the facade, it looks more like a gigantic doll house. Its shop windows are among the most imaginative and inspirational in London, often with animation features and music spreading all over the pavement.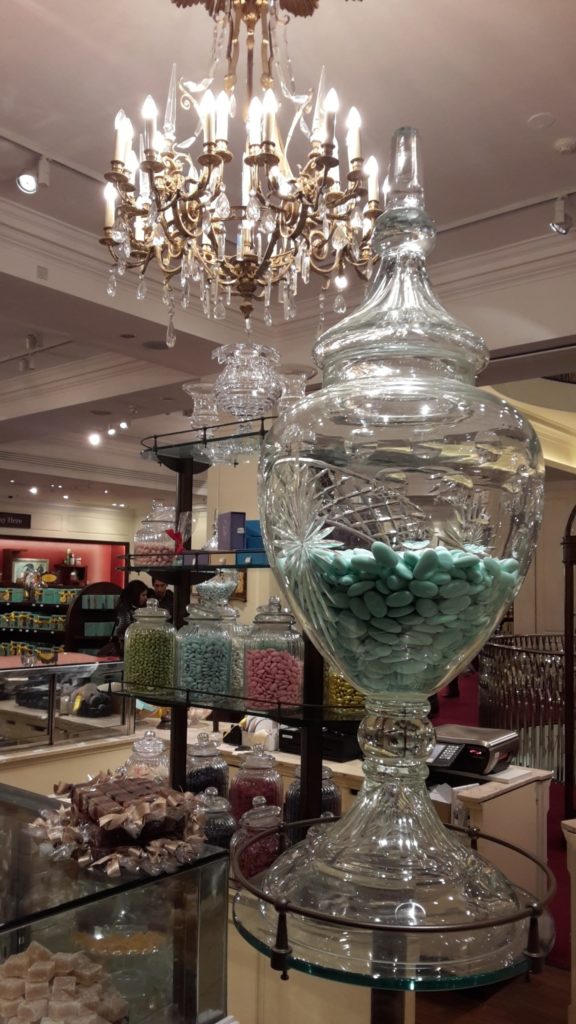 And if you find the exterior impressive enough, wait until you step inside. A world of elegance and luxury, with red carpets, chandeliers, lifts of carved wood, a central spiral staircase and personnel in tailcoats surrounds delicatessen products of the highest quality, mostly of their own signature label, which has become a synonymous of the finest things a food hall can offer. They are worldwide known for their tea blends and accessories, biscuits and condiments, luxurious home-ware and hampers filled with all goodies a connoisseur would desire. In the basement with the rich cellar, you can find fresh delicacies that you can enjoy there, along with wine of your choice at The Wine Club, while the ground floor hosts their packaged food collections, including fine chocolates, jams and honey, confectionery and coffee, all presented in gorgeous tin boxes. The rest of the floors offer exquisite gift ideas and host various restaurants. To book an afternoon tea at the The Diamond Jubilee Tea Salon is a unique experience of enjoying both being pampered but also tasting the finest tea complements. My favourite spot though is The Parlour, with the indulgent ice creams , some based in recipes dating many decades back. The serving alone in gorgeous glassware will leave you speechless! Altogether, this store is the epitome of sophistication and one you shouldn't leave without buying a few goodies.
The Earl's of Burlington mark on the area

At this point if you cross Piccadilly St, you'll be able to visit another historic shopping arcade, Burlington Arcade, that dates back to 1818 and was originally built by the 1st Earl of Burlington in the grounds of what used to be the side garden of his residence, in order to prevent passers by throw rubbish around his house. These days, the arcade in art nouveau style, is considered the most elegant and popular in London and as you'd expect is home to fine boutiques and luxury fashion.
Next to it, in the premises of Burlington House, you can now visit the Royal Academy of Arts, one of Britain's most renowned art institutions. Among its founders were painters Thomas Gainsborough and Joshua Reynolds, whose statue adorns the yard. The Academy regularly hosts temporary exhibitions of the most celebrated artists and of special interest is the annual summer exhibition, more like an art festival where students and artists exhibit their works. Among its permanent collections you can see one of Michelangelo's four sculpture that exists outside Italy.

On the same side of Piccadilly St, you can now walk a little further in order to enjoy a refreshing break for tea, coffee or a light snack at Caffe Concerto. In this elegant café-patisserie that combines bare brick walls and wooden panels with leather and velvet sittings, a slice of the amazing, elaborate cakes loaded with chocolate and fresh fruits is an absolute must and also the perfect way to accompany your cup of coffee or tea. With views overlooking Piccadilly St and the junction with St James's St, you can relax for a while before discovering another elegant street and more historic merchants, the ones located on St James's St.
The exclusive character of St James's street

As its name indicates, St James's St leads straight to the old Tudor palace of St James's, the red bricked, guarded royal residence which is still in use for welcoming foreign ambassadors. But before seeing the palace, there are plenty more to see on the street itself. How about a chemist and perfumer shop dating back to 1790? At Dr. Harris and Co you can choose among their own signature perfumes and an entire skincare, body and hair range guaranteed to pamper all your senses. Let the aromas of all classic British herbs and plants, such as lavender, vetiver, ginger and rose fill your bathroom and fragrance your skin! Next to this beautiful shop with the wooden cupboards and green carpets, look for Boodle's, a strictly gentlemen's club that's more than 250 years old, housed in a beautiful Georgian townhouse and whose members were Adam Smith and Winston Churchill among others. On the opposite side of the street, another male member's only club is Brooks, the oldest one in London dating back to 1762. Look for the outstanding building with Ionian columns that was built to house the club in 1777 and if the lights are on you might get a glimpse of the luxurious green and red living rooms with the fireplaces and Chesterfield sofas. Two blocks further, a Palladian style building made of Portland stone was built to house the members of Carlton club, mainly belonging to the Conservative Party, which enjoy membership only after nomination and election. What could be more exclusive than that!

If you've had enough of members' clubs, cross the street again for some more royal warrants. John Lobb, one of the most beautiful shops of the British capital, boots and shoes supplier for both the Duke of Edinburgh and the Prince of Wales, has been making hand crafted shoes since 1849. The splendid, wood paneled shop has seen kings, maharajahs, actors, singers, politicians and famous businessmen walking through its doors, like King Edward VII, George Bernard Shaw, Harold MacMillan, Cole Porter, Frank Sinatra, Dean Martin and Aristotle Onassis, to name only a few.
Next to it, meet Admiral Lord Nelson's hatter and the oldest hat shop in the world! It's no other than Lock & Co Hatters that carries a heritage from 1759 to the 21st century and proudly includes Oscar Wilde, Winston Churchill, Charlie Chaplin and Jackie Kennedy among its precious client list.
Last, but not least, another favourite shop of mine, Berry Bros. & Rudd is the oldest wine and spirits seller in the U.K., trading in this very shop since 1968! The gorgeous shop that is nested in a tiny alley called Pickering Place and features a choice of passionately selected wines from all over the world, as well as their own range. And the best part is that you can taste some of these amazing wines, either alone or as part of a special lunch or dinner, right there in the cellars of the wine shop. You wouldn't find a more eclectic way to finish your day in St James's!

But if on the other hand fine dining is not in you plans, you can carry on with your walk, passing by the royal residences and aristocratic houses that surround St James's palace and heading towards two of the most beautiful royal parks: both Green park and St James's park are only a few minutes' walk and they offer the perfect opportunity to relax and unwind…you'll literally forget that you're right in the center of the city!