There is an arrow of endless wonderful experiences that await and pleasently surprise the visitors of Poros island, a favourite destination in Argosaronikos Gulf. From the panoramic view that spreads across the famous Clock Tower to the numerous sandy beaches and from a pleasant walk along its marina, that's always full of sailing boats, catamarans and yachts, to a delightful dinner with ouzo drinks, fresh fish and seafood dishes at one of the many well-attended taverns that spread their tables along the coastal road in Chora, the capital of the island. These delicious culinary choices are ideally accompanied by superb desserts made in Poros' traditional pastry shops, where, passion for sweet creations, love for tradition, respect for locally sourced raw materials and recipes that pass from one generation to the next one, result in traditional, creative, refreshing and tempting desserts you won't be getting enough of.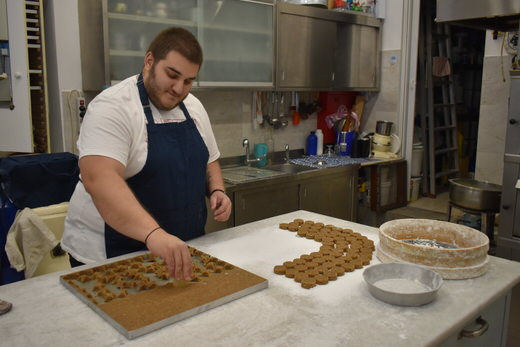 Daglis

No doubt, one of the best pastry shops for marzipan bites, the famous dessert of most Greek islands. Having cleared this out, it's needless to say that a visit at the traditional pastry shop of Daglis family, in the center of Chora's coastal road, is an absolute must for all of Poros' visitors. Their shop and laboratory stands there, a landmark of traditional island pastry making, since 1976, when the founder of the family run business Mr Ioannis Daglis, decided to turn his hobby into a profession, which -as history proves – has become a form of art. This same art is also being served to this day, with love, devotion and modesty, by his wife and sons.
Any time you pass by the pastry shop with the characteristic blue door and windows, you will be captivated by the sweet smell of rosewater, a key ingredient for their amazing marzipan bites. Small bite-sized desserts, in the shape of a tiny pear, that fill your mouth with fragrances and a perfectly balanced combination of almond and rosewater. It really is amazing how tasty can such a small sweet be. Just as tasty are the small, round walnut bites – called Karidata – for which, a mixture of only grounded walnuts, honey and cinnamon boils, cools off and then is being cut, shaped by hand and finally sprinkled by icing sugar. You will also find delicious Kalitsounia, another nut-based traditional Greek treat, Kourabies – a typically Christmas treat which they bake all year round and handmade cookies, all made with pure and fresh ingredients.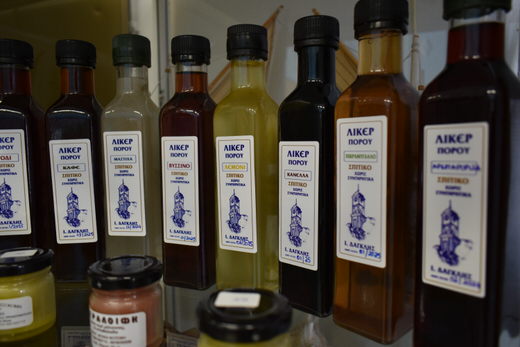 And while the family's second generation prepares all these wonderful, dreamy sweets inside the lab, at the back of the pastry shop with the old wooden shelves painted in blue and the black and white old photos on the walls, locals in the know gather early in the morning for an equally tasty apple pie that makes a great breakfast delicacy. What's also popular especially among Poros' visitors are the handmade "spoon sweets" – traditional fruit compotes in thick syrup – and the liqueurs made by the owner's wife, Mrs Konstantina in flavours like lemon, mastic, apricot, bergamot and bitter almond, similar to the Italian Amaretto. And last but certainly not least, a small, sweet tip: Don't try only the marzipan treats, but definitely also taste the equally rich in grounded almond, fragrant Marzipan ice cream.
Glykisma

While wandering around the labyrinthine neighborhoods of Chora and strolling around white washed, two storey houses and steep staircases, you will probably be drawn by a tempting and intense, buttery smell. Don't hesitate to follow it, at it will lead you to a corner pastry shop, with the most tempting window shops. It's called "Glykisma" – meaning "dessert" in Greek, but it's known by the owner's name among locals, Kanastidis Pastry Shop, and since 1991 this is the temple of traditional, eastern style, syrupy desserts in Poros. Indeed, the fantastic, syrupy sweets that come out of the family's laboratory, which in this case too is housed at the back of the pastry shop and is responsible for the tantalising smell from pure butter used in their desserts, are loved by the whole island.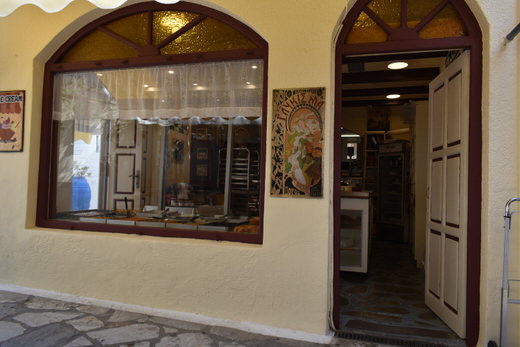 While gazing at the huge, loaded baking trays, you will find it difficult to choose what to try first: generous slices of juicy walnut pie and "ravani", "kataifi" – a very popular eastern dessert made with shredded pastry and grounded almonds and walnuts, the richest chocolate pie and a big variety of other sweet treats, drenched in aromatic syrup and full of various nuts. The ones topped with blueberries and blackcurrants are particularly tasty and worth trying, just like the ones made of green phyllo pastry and filled generously with top quality pistachio from Aegina island. The one that exceeds them all though and is based on a secret recipe, the specialty that Glykisma is known for, is the unique "Baklavas", filled only with peeled almonds, soaked in a syrup full of fragrances and cut in bite sized pieces.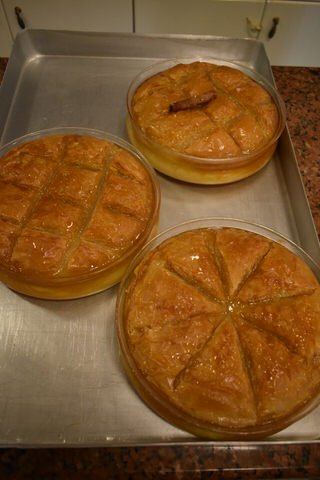 All it takes is a look at the giant tray that is usually displayed at the window shop and the numerous layers of golden phyllo pastry will then persuade you to give it a try. Its equal competitor is the amazing "Galaktoboureko", a traditional, rich custard pie, which sells out quickly so you'd better go for it in the morning. At this time of the day they also prepare the fresh and popular among locals, rice puddings, which are a delicious idea for breakfast. No matter what you try, all of the sweets made in this wonderful pastry shop are an integral part of the professional story of George Kanatsidis, a man who transferred the baking experience he got in big Athenean hotels where he worked, to the very heart of his homeland.
Vessala Pastry Shop

If the joy of pastry making had a face, then you would find it passing through the door of this excellent pastry shop, in the smiling face of its owner, Mrs Theodora Vessala, who clearly shows how much she loves her profession. There's no window shop here, nor unnecessary decorations that try to make an impression. You will recognise your destination by the tall oleander trees that frame the two storey building with the red windows and by the smile of those exiting it with an ice cream or a dessert in hand. Inside the bright and elegant shop, past and present coexist in harmony and a traditional aura goes hand in hand with a contemporary aspect of pastry creations.
The sweet love story started on the opposite shore, when the owner's father started his own pastry lab in Galatas, back in 1969, with his keen and creative daughter continuing the business in Poros and opening her own pastry shop in 1994, introducing modern for those times desserts, after attending pastry seminars in Paris. And still toady, it's a real pleasure watching her filling up luscious chocolate eclairs or perfecting a tiramisu cream, always wearing a smile and looking excited. Besides her, support comes from one of her two daughters, Mrs Sotiria Aroni, who grew up literally inside the pastry shop and learned to love pastry creations so much, that after graduating university as a chemical engineer, she learned all about the art of genuine Italian ice cream by studying at Bologna's Carpigiani Gelato University. There she got to know the rules, secrets and Italians' professional approach on the subject, which she then applied in the family business.
The outcome totally justifies her: The gelato of Vessala pastry shop is top quality, equal in taste to the ones you taste in Italy, light, fresh and in flavours – other classic and other more creative and unusual – that always follow the seasonality of raw materials. And that's why locals love it and ask for it all year round. Her strong card, as she believes are the fruit sorbets, which really give you the genuine taste of real, fresh fruit: Lemon sorbet made using the area's famous lemons, biologically cultivated strawberries give a delicious sorbet too, apricot that you find only during early summer and wonderful, exotic coconut sorbet. They are all deliciously refreshing, accompanied by and paired with other amazing flavours, such as Cookies with chocolate, a rich Parfait that takes you straight to your childhood, Ricotta cheese with passion fruit, Peanut butter and one of the tastier Pistachio you will ever try, made purely with top quality pistachio nuts from Aegina island. And since you won't be able to take some ice cream back with you, you should get some supplies of handmade marmalade presented in elegant jars, fragrant "spoon sweets" in light syrup and Sotiria's fantastic handmade chocolate bars in original flavours like Greek herbs, mastic and lemon, Tea, hibiscus and apple and Spices, and last but not least Mrs Theodora's amazing marzipan bites with a juicy, orange filled center.