Having traveled around Italy many times and after observing Italians' habits, I've fallen in love with the wonderful habit of the necessary quick stop at a café early in the morning for a cup of coffee – most likely an espresso – accompanied by a small sweet. There's something so vivid about this ritual, people of all ages from students to smart businessmen, from mums with children on their way to school to elegant, older ladies walking their dogs , all are placing their order at the bar under the sound of big, steaming coffee machines. Hot cups in line on the bar and them drinking their coffee standing, along with a fresh sweet corneto – in cafes of Milan – or a warm sfogliatella – in those of Naples. A few ships of water and then leaving as soon as they came.
"Hot cups in line on the bar and them drinking their coffee standing, along with a fresh sweet corneto or a warm sfogliatella..."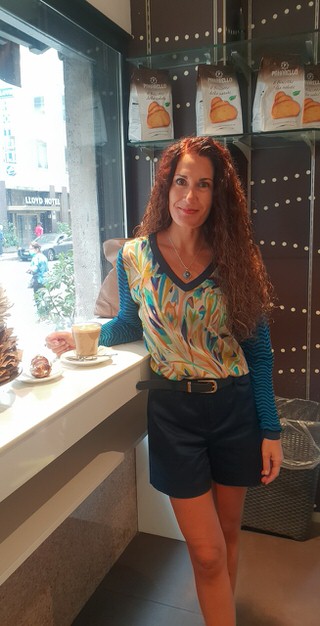 The epitome of this habit can be observed in Milan's Panarello, an old coffee house, found in six locations, which opens early in the morning and stays open till late evening.
The one in Corso di Porta Romana is my favourite one, as it stands in the middle of a rural area and from its few tables and benches that overlook the commercial street, I can spot people and trams passing by. I'm not a coffee person, in fact I never drink coffee, but in Italy it comes so naturally, a need to blend in and to feel like you belong there or simply being carried away by the Italian way of things, and there I am every day ordering an espresso too! Panarello is ideal for a morning caffeine shot and so it's always crowed as their coffee is tasty and very cheap, service is incredibly quick and there's a big variety of small or bigger sweets that sell out so fast! Luckily the refilling is non stop and you can always take a package with you.
Another, smaller shop is located close to Duomo, just off Via Torino -one of the busiest commercial streets- and therefore it's ideal for a quick stop and a break from sightseeing or shopping. In both spots you'll find pictures and items from past ages, a sign that Panarello's history is more than a century long.
Caffe Pascucci on the other hand, is a modern, restless café in Milan's commercial heart. Piazza San Babila and fashion's famous Golden Quadrilateral are only a short walk away. There, the hip baristi prepare special coffees, hot or cold, for the young Italians who take a break from shopping or work on their laptops on the upper floor. In this contemporary café products couldn't be any different, a look at the big board as you enter confirms that. Their signature brews include Gianduio, Paspuccio and Confusio and many others that contain various syrups and extra cream. Perfect for the sweet tooth ones like myself! If you fancy a cold version there are also coffee-based smoothies and shakes. A black marble bar dominates the ground floor and many drink their beverage there or at the few stalls, but I prefer the quieter 1rst floor with only a couple of tables and a view from above towards the cool crowds on their beloved custom of coffee drinking. In my company, a delicious Gianduio – espresso with chocolate, whipped cream and hazelnut crunch!
"Hip baristi prepare special coffees, hot or cold, for the young Italians who take a break from shopping…"