Literally, a shop full of sweetness: from products on sale to the owner's kindness! Naxion is a small shop in Naxos town, filled with traditional, sweet delights, where you'll appreciate the importance of quality, locally sourced ingredients. Fruit and vegetables from the Naxian land are harvested from the owner's own plantations and used to create the purest preserves and marmalades. Greece has a long tradition of offering such fruit preserves as a treat to visitors and Greeks love to accompany their cup of coffee with one of these sweets as a healthy indulgence. They are called "spoon desserts" and are served in tiny, glass plates with a small spoon. According to the Mediterranean diet they are the healthier sweets as they are free of fat, cream, milk, eggs, butter and cholesterol. And especially the ones of Naxion are sugar balanced and full of taste.
The passionate and enthusiastic owner will be more than happy to treat you to many different flavours and explain all about the wild figs of Naxos which are not to be eaten fresh but make a great preserve, or papylona, a kind of citrus that only grows on the island and has an incredibly fragrant taste. In my most recent visit at this lovely shop I discovered a fantastic tomato marmalade, a sweet and spicy chutney that makes a great assortment for Naxian cheeses as well as a very aromatic orange confiture.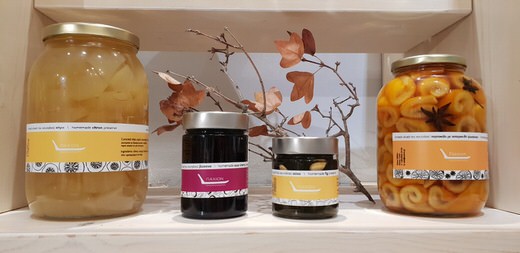 Sour cherries, citruses, mandarins, apricots, lemons, bergamots and strawberries also give delicious marmalades in simple, elegant jars. In Naxion you'll also find high quality Greek honey, local citrus liquors and Naxian cheeses. And although it's the products' quality that will win you and totally satisfy your taste, it's the owner's warm smile that will capture you and make come back to try more of her sweet, unique preserves.
Naxion: Chora of Naxos, behind Coronis Hotel, Cyclades