The old town of Nafplio, first capital of the free Greek state and one of UNESCO's World Cultural Heritage sites, is undoubtedly a delightful destination for both Greeks and international visitors, any time of year. Besides the obvious attractions -the original architecture and elegant neoclassical buildings, the imposing fortresses and the sea that embraces the old part of the city – Nafplio is full of hidden gems, waiting to be discovered among its lovely paved alleys and picturesque staircases that reveal breathtaking views. And there no shortage of gastronomic delights either, from taverns with traditional Greek food to fish restaurants and from numerous ice cream shops to cocktail bars, this beautiful town offers a big arrow of culinary proposals for all tastes. And although Nafplio doesn't have a special traditional desssert, it surprises us with a local confectionery that creates the most unusual and delicious flavours of "loukoumi" , one of the most celebrated confections in Greece.

Usually known as "Turkish delight" or "lokum", loukoumi is just as popular all over Greece, with some parts of it holding a special tradition in creating the bite – sized, square, chewy sweets, made by starch and sugar, that come in many different flavours – rose, bergamot and mastic being the most common of them. But when in Nafplio, you will find out that the confectionery of Mr Vissarion Rizos, goes beyond the expected, creating Turkish delights in both classic and original flavours.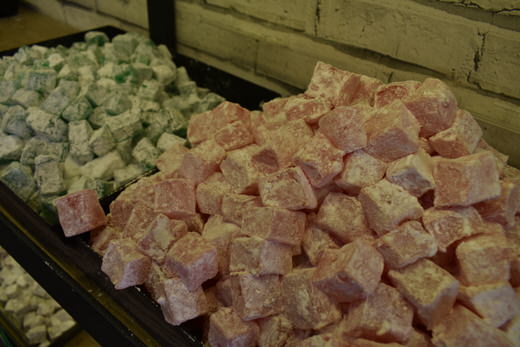 Local citrus fruits, known for their excellent quality, are used to give their distinguishing aromas to the Turkish delights that Mr Rizos creates with personal care, passion and respect for this "humble, honest and beloved" sweets, as he characterises them, which are also very healthy as they don't contain butter, eggs, fat or cream. He doesn't hide his love for their balanced sweetness or his respect for their traditional creating methods, explaining how he traveled to Turkey – where flavours and techniques are advanced – in order to buy the equipment he was seeking for and the large cauldron he works on every day.
Even though Rizos Confectionery is only 3 years old, they don't hesitate to experiment and suggest unusual and extremely tasty flavours of small or bigger Turkish delights. If you prefer classic tastes, you will probably prefer the Rose – plain or with chopped almonds -, Mastic with chopped almonds too and Vanilla with coconut shavings. In order to savor local tastes, try the fruity flavours like Orange -cinnamon or Orange – citrus – vanilla, that both contain candied fruit pieces, but don't miss the Berry with its intense aftertaste.

But the flavours that are most exciting are the ones based on cocoa, like Chocolate Truffle, a larger Turkish delight that contains a good dose of cocoa, chocolate sprinkles that give it a crunchy texture and is also covered in chocolate sprinkles, looking like a square truffle and being just as tasty. you will also find the much loved taste of chocolate in the Rose and Chocolate Roll, as well as in the plain Cocoa Turkish delights, either sugar or cocoa dusted. Children love an old fashion confectionery called Biscotoloukoumo, a sweet sandwich, consisting of two rectangular biscuits and a filling of a generous rose Turkish delight between them. Plain or partly covered in chocolate, brings to us Greeks the sweetest Apart childhood memories.

Extra tip: Apart from the unusual Turkish delights, sold boxed or in bulk, worth trying are the handmade sesame and almond bars, fresh and crunchy, an excellent, healthy snack, ideal to give you extra energy when strolling around the alleys of Nafplio. As for the custard pie or "bougatsa", preferred by locals as a delicious breakfast snack, it's what originally made the Rizos name famous for, back in 1997 and another must-try delicacy.

Info: Snack bar and selling point: 10 Amalias St, Ναπλιο – Confectionary and lab: Dalamanara, Argos – tel.: 27520 – 26597