A visitor of Naples will soon realise that the love of Neapolitans for desserts is such, that the city is full of pasticcerie and gelaterie, that is pastry and ice cream shops. Pasticcerie that also offer gelati and gelaterie that also offer a variety of traditional sweets. But Mennella is a focused gelato selling place, and in my opinion is one of the best gelaterie in whole Italy! Even for a person like myself, who adores ice cream and has tried tones of it, in an endless array of flavours, it was an unexpected but wonderful surprise to taste Mennella's gelato.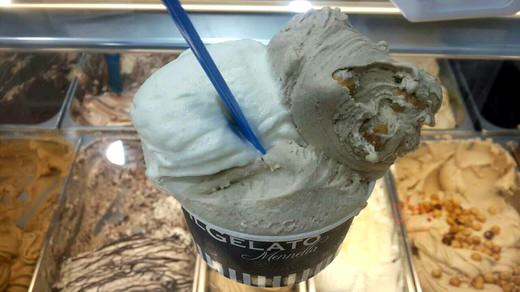 The story of Mennella gelato makers has its origins in 1969 and the business that now counts 5 spots around Naples, is currently run by the second generation. One thing that has remained unchanged through the decades, is the devotion and care for quality ingredients that make their gelato truly exceptional, both in terms of flavour and texture. Here, gelato making is a form of art, using the best local ingredients and thanks to their masterful technique their product is a work of art with divine taste.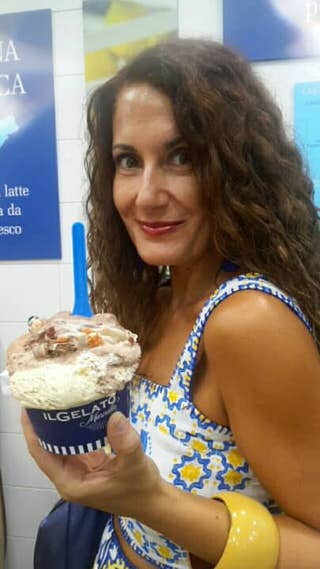 Without artificials or colourings you taste pure and intense flavours of rich and full bodied texture, made by genuine, fresh and natural ingredients. The milk used is always local, perhaps that's what makes their Fior di Latte so delicious, proving that when quality is high, less is actually more. For their refreshing, fat free fruit sorbets lemons come from Amalfi coast, apricots from Vesuvius and wild strawberries from Acerno. A real celebration of the Campania produce! Their signature flavours, which I totally recommend, are Crema Mennella, comprised of peanut cream and almonds and Mennella Rock, which is their interpretation of the classic Cookies and Cream, made with milk cream, gianduia and biscuits. Also worth trying are the Cassata, Caffé, Gianduia and the very fragrant Mandorla e Arancia, combining almonds and oranges. But their absolute winner are the nut flavours, so nutty indeed that you think you're eating more nuts than ice cream. Mandorla with almonds coming from Puglia, fantastic Nocciola full of whole hazelnuts that come from Giffoni, amazing Noci made of top quality Sorrento walnuts and Pistachio from Bronte nuts, will have you coming back for more as it will be difficult to find better versions elsewhere.
At Mennella they guarantee that their gelato, whose creaming –the last process of production- is done in the gelaterie at the customer's presence, is never preserved for more than 2-3 days. With so many people lining up outside the small gelaterie I doubt batches last more than a day. So trust the locals, give it a try and Mannella will become also for you the most appreciated gelateria in Naples.