Exqusite delicacies and many classic Greek dishes cooked with local products can be enjoyed in their best version at Irini's, a simple tavern near the port at Naxos town. There, sitting at tables laid with check tablecloths, hidden among plants and huge pots of aromatic basil, you will taste great recipes from past generations cooked with the purest and freshest local products. Specialty dishes like veal stew with its aromatic sauce of lemon, wine, herbs and garlic, the casserole lamb in tomato sauce, or the enormous beefburger stuffed with tomato and cheese are a must and can both be served with hand cut fried potatoes, rice or spaghetti. Portions are really big and very satisfying.
Do not miss the delicious, crispy zucchini fried balls, so fluffy and light you won't believe they have been deep fried and the zucchini pie, made to the owner's mother recipe, thick and full of taste. An extra portion of Naxian fried potatoes never fails and your dinner's star should definitely be the huge Naxian salad, full of freshness and so rich in tomatoes, cucumber, peppers, onion, Greek olives, capers and the local white, soft cheese called "xinomizithra".
At the end of your meal, the courteousness and respect for the customer is reflected in the kind gesture of a sweet treat. You will be generously offered a piece of sweet cream pie or fresh fruit and Greek yogurt with honey and walnuts – a classic dessert in Greece – and a shot of Kitron, the local aromatic liquor.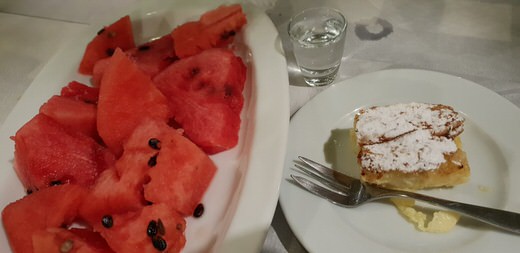 The service is quick and George, the friendly owner who is overlooking everything, will pass by your table for a small chat in order to make sure you're satisfied. Finally, prices are reasonable, so do not hesitate to enjoy a meal at irini's. You're guaranteed to become a regular!