Chocolate worshipers you now have one more reason to party – actually two reasons – and no excuse not to head to the East End's Brick Lane market. Because it's there where you'll find not one, but two specialised shops of the Dark Sugars chocolate makers , an absolute heaven on earth not only for sweet tooth persons and lovers of anything chocolaty, but also for those who'd like to indulge into a top quality small dessert.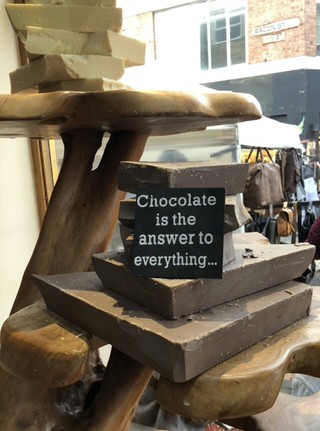 Both shops are located on Brick Lane, London's famous market, right in the heart of the open market and even though there's an abundance of desserts – from waffles to layer cakes – on offer at the counters around you, don't make the mistake to pass by Dark Sugars. Let the intoxicating, sweet smell of roasted cocoa draw you inside and from the moment you enter you'll realise this is not the average chocolate shop. It's a paradise, but a sinful one, a shop absolutely filled with chocolates of all shapes and in all flavour combinations you can imagine. Displayed beautifully in big, wood-curved platters or kept inside huge shells, they'll make you drool and want to try everything! Anyone who enters the shop and faces the large wooden tables loaded with thousands of chocolates in line and large chocolate blocks piled up among them, feels ecstatic and finds himself starring. And how could it be any different with so many unique, inspired and tempting flavours. Think of truffles dusted with cocoa, round colourful pearls and chocolate cups topped with a mini capsule with a liquid filling.

To make your choice easier, there are basically 4 equally delicious and tempting chocolate categories

The Truffles
Far beyond the truffles you may have tried, dusted with the most aromatic cocoa and in fantastic flavour combinations like Coffee and walnut, Ginger and honey, Gin and lime, Cardamom and orange, or infused with liquor for an extra kick like Flambéed cognac, Apricot brandy, Tia Maria or Vodka and orange. One thing is sure, you've never tried a truffle remotely close to these ones.

The Pearls
Beautifully arranged and displayed inside huge shells and with a slightly shinny finish, seem like precious gems and you almost feel sorry to eat them. Flavours like Red velvet, Pink champagne, Peach melba, Orange caramel, Irish cream, Mandarin and the top seller Liquid sea salt caramel scatter any guilt!

The Liquor cabinet
An innovative idea and a rich collection of cup shaped velvet ganache chocolates with colourful small capsules on top of them. It might seem strange but once you squeeze the capsule and infuse the filling atop the ganache, you'll want to try them all. Pistachio liqueur, Tequila rose strawberry, Coconut rum, Irish whiskey and Bailey's make a bold and scrumptious combination with the creamy chocolate filling.

Assorted chocolates
For those who like classics with a twist. Limoncello, Cinnamon cider, Popping candy, Nutmeg, Mango slices, Mocha nougat and the amazing Toffee cups have a truly divine aftertaste and prove why top quality cocoa paste makes all the difference.

Select a few to fill a box and head to the counter to place your order of the most decadent hot chocolate drink you've ever dreamed of. The preparation alone deserves an applause! Before your eyes the staff uses big knifes to chop large blocks of white, milk and dark chocolate and places the mixed peelings on top of your hot drink. As they melt and fall inside your cup, your chocolate drink becomes richer and gets a more intense flavour! Personal favourite and recommended to try is the hot chocolate with cardamom, while around Christmas cinnamon and nutmeg will get you in a festive mood in the sweetest way.
Having been proven that chocolate lifts your spirit and mood and gives your endorphins a boost, Dark Sugars really seem like the ideal place for the perfect pick-me-up on a frantic day in the super energetic market of Brick Lane. And whatever you choose to have, top quality solid chocolates or a rich, hearty chocolate drink, you can be sure that even Willy Wonka would feel jealous!