Whether the rivalry is existent or not, whether the stereotypes are true or not and whether the differences are really that significant on not, in the perpetual battle between north and south Italy, the winner is one: Cannolo Siciliano the king of Sicilian sweets that has made his way to Milan and the north, captivating the taste buds of all Italians in-between. And Ammu Cannoli Espressi Siciliani has definitely played a role in that.
Milanese dessert lovers have found in small cannoli the perfect pair for their beloved espresso.
And while some pastry chefs of Milan are successfully presenting modern versions of this traditional sweet, there are others who have carried the traditional methods and original, ancient recipes from their beautiful island to the capital of the Italian north.
Ammu Cannoli Espressi Siciliani, a growing chain of now 5 spots around Milan, is definitely one of the best patisseries where you can indulge in the most original and freshest version of a bigger or smaller cannolo. Dedicated in bringing the best ingredients of their home land to their tables, they select raw materials from Sicilian producers in order to guarantee the best quality for their excellent desserts.
And the brilliant thing about their cannoli is that they are being prepared right at the moment you order them. Since a cannolo can easily become soft and lose the crispness of its pastry as ricotta cheese can moist and soften the waffle, at Ammu cannoli are stuffed at the moment and therefore are always perfectly crunchy outside and velvety creamy inside.
And to complete the confectionery according to your taste, you can choose the garnishing you prefer: candied orange peels, dark chocolate chips, maraschino cherries and chopped pistachios from Bronte. Every bite is full of sweetness and crispness and takes you straight to 18th century Palermo where the dessert and also the recipe used at Ammu, originates.
Among the variety of coffee that you can accompany your cannoli with, the special ones are definitely worth trying. The ones with either hazelnut or pistachio cream are superb, not only in presentation but also in taste and make a perfect match with the amazing cannoli.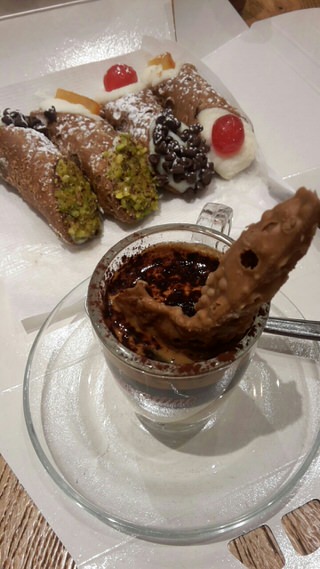 I have tried both at their spot on Corso di Porta Romana, which is my daily stop and ritual of indulgence, whenever in Milan. It's always a pleasure entering this small and colorful place, decorated with characteristic Sicilian ceramics and with selves filled with traditional goodies you can buy. And it's so easy to give into more than just one cannolo or take away a whole box! Just remember to ask for a reward card , which easily provides free treats or discounts by collecting points for each euro spent. So tell me, are you ready to take a dip into Sicily of taste and flavour?
Ammu Cannoli Espressi Siciliani: Corso di Porta Romana 44, Milan