Just like it took Hugh Grant and Julia Roberts only one day to fall in love in the famous film "Notting Hill", the same way it will take you just one day to fall in love with Notting Hill, one of London's most charming areas. For me, any trip to London is incomplete without spending a day in this lovely and picturesque district. And every time I arrive at Notting Hill tube station and start walking towards the famous Portobello road market, I keep wandering what is it exactly that makes this area such a special place for all of its visitors who keep coming back again and again. I think it's the perfect balance between the bohemian, carefree open market, with the endless variety of merchandise on sale from past and present times, and the peaceful and serene atmosphere of the surrounding streets with the gorgeous, aristocratic townhouses, each painted in a palette of pastel colours and the beautiful gardens that spread around them.
Browsing the antique stalls surrounded by colourful houses
At the end of the day everyone finds something that charms him, whether it's the stalls with the vintage treasures, the beautiful shops or the plethora of eateries, bars, cafes and pubs that frame the busy market. But before coming to the end of the day, let's see what an ideal day in Notting Hill seems like. Most people choose to visit Portobello road on a Saturday, the busiest day of the market. As Saturdays are always too crowed I prefer a visit on a Friday, when counters and stalls are all there, but people are less and so it's easier to get a table at any café and more relaxing to shop. From Notting Hill metro station, a walk along Pembridge Road will start giving you a good idea of the area's vibe. On your left, various shops of jewelry, souvenirs and memorabilia, T-shirts and decorative objects follow one another, while on your right, colourful houses attract instagramers' attention. When you'll see a bright yellow pub on the corner of Portobello Road, you've reached the starting point of the market.
It's up to you whether you'll focus on the stalls or the shops, both selling mostly antiques at this point. Keep an eye on both as there are always interesting findings. Also, look out for the cross street named Chepstow Villas, a road with beautifully coloured houses where everyone wants to be photographed at. Try to be discrete, residents are fed up with tourists and visitors trespassing their properties for a good picture and in most railings you'll see signs asking you to respect their privacy. So, don't climb on the stairs, lean against their front doors or act as you own their space. Even if others don't, and believe me you'll see many who don't, try to be respectful and keep a reasonable distance.

Back to Portobello Road and some of the most well known for the antiques shops you'll come across are The Chelsea Galleries, The Portobello Antique Store, Barham Antiques and The London Antique Clock Center, all on the left side of the road. Among them, two shops with excellent wool and cashmere clothing, Stumber & Fielding and Scottish Cashmere.
But the real treasure and one of London's most famous shops is on the right side of the road and it's no other than the bright red, corner antique shop Alice's. If it looks familiar and you think you've seen it before, you're right: The shop appears in many scenes of "Paddington" film, with the cute little bear visiting the place on several occasions. If the friendly owner is not too busy, he will willingly chat with you and tell you all about the film, how the exterior of the shop was used for the actual filming, while the interior was recreated in a studio. Apart from the stories about the movie, the shop is an excellent place to buy tea and dinnerware china, in vintage, mismatching designs and in various sizes. It's the perfect, nostalgia chic keepsake to bring back home or offer as a gift from Notting Hill!
The delicious side of Portobello market and its unique shops
It's now time for a delicious breakfast or brunch, depending on the time, at Gail's, one of London's best bakeries. On the corner of Portobello and Lonsdale roads, the white and red café caters the hungry shoppers with top quality, fresh, sweet and savory delicacies. Although it's always busy and full, it's worth waiting a while for a table, preferably by the window to gaze at the crowds among the stalls. The counter where you'll give your order is always piled up with the most delectable snacks, that keep coming out of the oven non-stop. Cakes with pistachio and lemon topped with edible rose petals, with toasted pecans and cinnamon, or with banana and sea salt are my favourite ones and if it's around Christmas time don't miss the festive bun too. From the savories, the small chicken and parmesan burger is unmissable and the traditional sausage roll is the best you'll find in any London bakery. Finally, take the Evening Standard's advice who has voted Gail's brownies as the best in London and try there or take away this divine delicacy made with Valrhona chocolate. The absolute definition of chocolate addiction!
Back to the market and as if you didn't have enough delicacies at Gail's, the antique stalls are now giving their place to food counters, loaded with fruit, seasonal produce, huge muffins and cupcakes, carrot cake slices and enormous pans with food being cooked on spot. The surrounding shops also sell top quality products like tea, coffee and chocolate at Whittard's, healthy snacks at Holland and Barrett, great ice cream at 3-Bis and fresh juices at Jo and the Juice. If you can handle more food, give in without guilt or take a package for a later snack.
On the crossroad with Elgin Cresent you'll have the chance to browse some more interesting shops and observe some more beautiful houses. The next junction, with Blenheim Cresent this time, will bring you face to face with two of London's most famous bookstores. In fact, one of them is worldwide known from the film "Notting Hill", as it was the bookstore that the main character, played by Hugh Grant, owned. So, you'll probably recognize The Notting Hill Book Shop by the enthusiastic crowds being photographed in front of its facade. Inside, you'll find a good selection of books dedicated to London, beautiful editions of classic novels and memorabilia of the film.
Right next to the bookshop you might find people queuing for a fresh, delicious, extra loaded donut from Doughnut Time. Fillings include chocolate or toffee custard, Nutella or hazelnut cream, raspberry jam or vanilla buttercream and toppings are even more impressive, with cookies, chocolate chunks, wafers and even caramelized pop corn! For 4,50 pounds you'll buy the most decadent 1.000 calories you even tasted! By now, you must have realised Notting Hill honors good food and another proof is the bookshop on the opposite side of the street, Books for Cooks. For almost four decades now, lovers of cooking, baking and homemade food can find recipes from all over the world in the loaded selves and on the central wooden table and even taste some of them, cooked at the small café at the back of the shop. This is a factor that makes this shop so special, as practice is put into theory in the most tasty way.
You know only have the last part of the market to explore, which spreads all the way to the intersection with Westbourne Park Rd, where the left side is filled with stalls of vintage and second hand clothing, while on your right, more food counters will be tickling your nose with the smell of exotic foods. Caribbean flavors are in abundance, after all you're in the center of London's Caribbean community that has been occupying the neighborhood since the '50s. In fact, a big part of Notting Hill's fame as a multicultural area is due to this community's presence and to their annual carnival, the famous Notting Hill Carnival, that takes place on August's last weekend. If you happen to be in London around this time, this is an event you shouldn't miss, as it's one of the biggest street festivals in Europe.
Make your evening an exceptional one

Having completed your stroll around the market, it's time to head back. A great idea to spend some more time in the area, is to watch a movie in what is perhaps London's most romantic and one of the oldest cinemas, Electric cinema. The more than 100 years old building, has been restored with care and the venue now looks more like a lavish theater, with leather sittings and cocktails served to your seat while you're comfortably watching a film. It's unique characteristic is that the front seats have been replaced with red, velvet sofa-beds, an utterly romantic and fun experience! And don't forget that with your ticket you get 50% off your meal at Electric Diner next door, an American style eatery, with great hot dogs and burgers, perfect to end your day with a hearty, casual dinner and a drink.
If you're not in the mood for a movie though, then let Portobello road lead back to where your day started. Opposite Gail's where you had breakfast, you'll find another famous bakery, specializing in cakes and cupcakes, Hummingbird Bakery. Treat yourself to a delicious red velvet or carrot cupcake, or even better get a box with various flavors. From there, if you feel like a little more walking, then head west to Ladbroke Square Gardens for a relaxing walk among the gorgeous green spaces that surround the elegant houses. You're now at the edge of Holland Park area and relatively close to both Holland Park and Notting Hill tube stations.
I suggest to make the short walk back to Notting Hill metro station, cross Notting Hill Gate and head to Kensington Church Street, one of the city's most expensive roads, filled with rare antique shops, art galleries and pricey restaurants. It's on this street that you'll find what is perhaps London's most beloved and popular pub, both for locals and tourists. The Churchill Arms is a sight on its own in the area, for its unique facade totally covered with flower baskets ( which are replaced by lighted Christmas trees during the festive period ).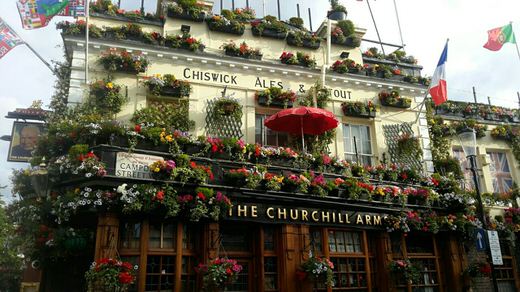 In the eccentric interior, full of memorabilia of the great British statesman whose grandparents were regular visitors of the pub, you can freshen up with delightful fruit ciders or end your day with dinner in its Thai restaurant. Being one of the first establishments offering Thai cuisine in London, the setting is a small, beautiful garden, relaxing but also always busy, with tasty and reasonably priced dishes.

Either for drinks or dinner, all you have to do is sit comfortably, watch the happy crowd, recall your many-sided Notting Hill experience and maybe plan to watch the homonymous film when you're back home…