It's true, we cant' get enough of the serene, calm, wind protected beaches of Saronikos gulf. Their friendly, sandy shores, their clear waters, the pine trees that touch the sea, they all make us eager to return to their summer breeze and enjoy a relaxing day swimming, diving and dining by the sea. To feel joy and to feel refreshed.
Inevitably, when thinking of such a scenery, the island of Poros comes in mind, a beloved destination for both a short weekend getaway and also for a longer, relaxing journey. Its abundant beaches add to its island charm and as they are really close to one another, they tempt you to discover them all and dive again and again in their – sometimes blue and sometimes emerald green – waters. Most of Poros ' beaches are organised and well equipped beaches, found in the south part of the island, scattered around Chora, the island's capital town, but there are also others, without any facilities, where you will feel secluded and will enjoy absolute silence, interrupted only by the sound of cicadas.
Kanali

This beach is the closest one to the capital, right on the spot of "Progymnastirio bridge" which connects Sferia and Kalavria. It's biggest advantage is the fact that it's reachable on foot from both the port and the main town. But this is not the only reason to visit it, as it has a wonderful sandy shore and it's equiped with facilities that include two beach bars that also serve simple Greek cuisine, so that you don't have to leave the beach and return to Chora for lunch.
Poros, the picturesque island of Argosaronikos gulf, impresses its visitors with its blue waters and easily accessible shores
Askeli

One of the most popular beaches of Poros, found in a close proximity to Kalavria, on the southeastern part of the island. Its narrow but long shore is dotted by tall eucalyptus trees and it's where a hidden by dense pine trees settlement ends up from a hill. Here you will find everything: a pebbled beach and a sandy seabed, sunbeds and sun umbrellas, beach bars, a lifeguard, restaurants and taverns on the edge of the coastal road, a water sports centre, a beach volley court, many accommodation choices and most of all picturesque views towards the back side of Sferia and the coastline of Peloponese. As the distance from Poros' port and Chora is short, this area is also a good choice when staying in Poros, with two of the island's biggest hotels – Nea Aegli Resort and Golden View- being found in Askeli, offering panoramic views to both the settlement and the picturesque, full of sailing boats bay.
Monastiri

Heading further southeast, the next beach you will come across takes its name from the Monastery of Zoodohos Pigi, which overlooks the small bay from a hill full of olive trees and pines. The beach is small, hidden among greenery, laid with pebbles and fully equipped thanks to a canteen style beach bar that makes sure you really enjoy the time you spend on the beach: relaxing, regularly cleaned sunbeds which you can also book in advance, polite service and well prepared cocktails. A good idea before you reach the beach, is a tasty breakfast with homemade pies, Greek sweets, lemonade and sour-cherry juice at the traditional cafe Kafeneio Melistakto, where you will sit under shady plane trees and enjoy the view from the hillside. And you shouldn't miss the chance to a visit the monastery too, as it's one of the most important historic and religious sights of Poros, founded in 1720. It was there that the first Governor of free Greece, Ioannis Capodistrias founded the first Greek Ecclesiastic School. Whether you combine it all in just one day, or simply head to the beach, swimming in beautiful Monastiri, which attracts many yachts, is an experience you must enjoy when in Poros.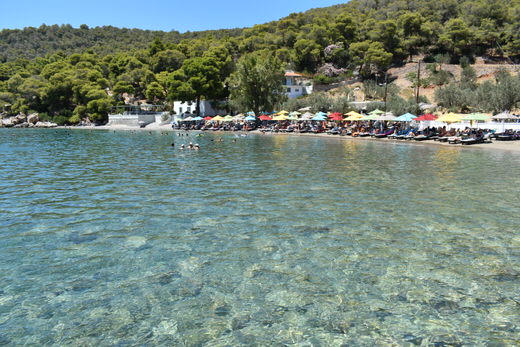 Vagonia

The most beautiful and well-known beach on the north side of the island, is another verdant, picturesque bay, with views that stretch all the way to Aegina island and the coastline of Attica. Although the gorgeous scenery with the transparent waters emerging from the pine forest, is only 7km away from the island's port, it will take you a 30′ drive to reach it. However, driving to Vagonia is certainly worth it, for the sense of seclusion, the privacy and the calmness that awaits you there. The surprise that this idyllic beach holds, is to be found in its seabed, where as you dive you will notice the traces of an ancient settlement that once stood in the area, clearly identifying remains of houses and streets that were part of it.
Gerolimenas

Another isolated and remote beach, that you will find as you reach the western part of the island, which as it's not equipped or organised doesn't gather many swimmers. Basically, there are two beaches, connected and reachable by a fordable path, dominated by pebbles and offering a lovely view towards a rocky, tiny island called Petra, right opposite the shore. If you're in a mood of further exploring the area, the 15′ walk to Dana's Lighthouse is more than rewarding. The square, stone structure that was built in 1870 by the French Company of Ottoman Lighthouses, has been fully restored to its former glory and stands as an important monument of Poros' naval heritage that impresses all of its visitors.
The Russian Naval Base

Another area that's rich in history as it's evident by the impressive remains of the Russian Naval Base that once stood here. This protected since 1989 monument, has played an important role in Poros' history and is of particular architectural interest too. It was once part of the extended Russian Naval Base, comprising of food and material warehouses and a supplementation station. This was a privilege given to Russia, based on free seafaring that was granted to its commercial and war navy, by the 1774 treaty between the Czarist Russia and the Ottoman Empire. When Greece was freed and Capodistrias became the state's governor, these premises were used by the Greek war navy, with Russians moving their activities to another, more spacious nearby location.
Since the beginning of the 20th century, when the facilities stopped being used, they were left in degeneration and today only a small part of them remains, impressively lit as the sun goes down. In front of this imposing scenery, you will find a picturesque little bay, which combines a friendly sandy shore embraced by pine trees, eucalyptus that seem to climb up the surrounding rocks, sunbeds, showers and sun umbrellas and a canteen with chill out music, light snacks and refreshing juices.
The lovely scenery is completed by impressive yachts, a picture perfect view towards the small island called Daskelio that you can easily swim to and a mini watrepark with floating toys that kids will love.
The Love Bay

As one gazes from the road level the magical scenery of this tiny beach with the emerald waters, the dense pine forest that descents from the hill and literally touches the sea and the lovely stone church of Agia Sophia standing on a rock, half hidden among greenery, he realises how this beach got its name. This beach is considered the most romantic in Poros and despite its small size, it's equipped with sunbeds and also has a beach bar, but it's popularity often makes it overcrowded. If you come early enough, you will find natural shadow under the pine trees and you will be able to lay down on the small pebbles. But then again, romance doesn't need too much comfort.
Big Neorio
On the southwestern part of the island and very close to Chora, this beach that is preferred by families, consists of successive sandy shores and many shady parts. It's well organised in some parts, equipped with sun umbrellas, sunbeds and beach bars, but has also some quieter parts. A canteen at one side of the beach rents canoes, so you can enjoy the calm waters of Neorio as you pass by fish boats and sailing boats, while the taverns opposite the beach will not let you feel hungry.
Calypso

The sandy shore continues to this beach that is found nested between Big and Small Neorio, which a few decades ago was a very popular meeting place for young people, due to its outdoor disco that once stood right on the seashore. These days, only a few tall pine trees stand from that era, scattered on the beach, offering their shadow to those whose choose to swim here. Still, it's a fully organised beach, right under the impressive Xenia Poros Image Hotel and it's one of the most beautiful places to enjoy a magical sunset.
Small Neorio

A small beach and a wonderful experience. Small Neorio, a tiny shore covered in thick sand, with trees and small rocks embracing one part of it and an endless, gorgeous view of Chora and Galatas on the opposite side, proves that often the simpler things are the best ones. The sea is clear and friendly, there are elegant sunbeds and sun umbrellas and the music from the small canteen – pop and rock from Lenny Lravitz to Massive Attack – plays at the right, not too noisy volume. You won't even realise the road passes right behind the beach, afterall the view is so spellbinding and passage of sailing boats so frequent, that you won't be able to take your eyes of the horizon.